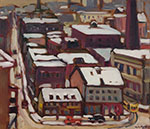 L'automne 2010 - 2e séance Vente en salle
Lot # 110

Kathleen Moir Morris
AAM ARCA BHG 1893 - 1986 Canadian

Craig Street, Montreal
oil on board
signed and on verso titled on a label
12 x 14 in 30.5 x 35.6cm

Provenance:
Gerard Gorce Fine Arts Inc., Montreal
Kastel Gallery, Montreal
Private Collection, Montreal

Exhibited:
Women's Committee, Picture Fund Exhibition, catalogue #99
Sir George Williams Art Galleries, Concordia University, Montreal, Women Painters of the Beaver Hall Group, October 6 - 30, 1982
Galerie Walter Klinkhoff Inc., Montreal, Kathleen Morris, Retrospective Exhibition, September 2003, catalogue #50

In 1920, Kathleen Morris was part of Montreal's Beaver Hall Group, and remained associated with the resulting network of women artists long after they left the studio. At a time when women were struggling to assert their professional status, this group of women, with their impressive lists of exhibitions and acquisitions by museums, was groundbreaking. From 1922 to 1929 Morris lived in Ottawa, then returned to Montreal, living near St. Joseph's Oratory in a neighborhood she often painted. Well known for her fine urban scenes of Montreal, Quebec City and Ottawa, Morris painted subjects such as marketplaces, downtown streets and cab stands which exude joie de vivre. Craig Street, Montreal has tremendous vitality; it is compressed, dense with buildings around which stream the streets which act as arteries of movement for cars, people and a streetcar. Morris emphasizes repeated patterns of squares - first in the windows, then in the rooftops covered in snow - which bring space into the density. Craig Street, Montreal, with its lush brush-strokes, strong colouration and lofty bird's-eye view, is compelling in its visual richness.

Estimation: 20,000 $ ~ 30,000 $ CAN

Vendu pour: 43,875.00 $ CAN (prime d'achat incluse)