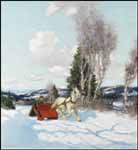 Printemps 2010 - 2e séance Vente en salle
Lot # 162

Frederick Simpson Coburn
AAM RCA 1871 - 1960 Canadian

Winter, Laurentians
oil on canvas
signed and dated 1949 and on verso titled on the stretcher
25 x 23 in 63.5 x 58.4cm

Provenance:
Private Collection, Ontario

Frederick Simpson Coburn was fascinated with horses as a boy, when he first began to draw them. His talent was noticed, so he was provided with training and encouragement from an early age. While living abroad, he first had a studio in Belgium, and then worked for G.P. Putnam Publishing out of New York, with whom he had an extremely successful career as an illustrator. He began to work in oil in 1914, focusing on horse-drawn sleighs and carts with ploughmen and woodsmen. This quintessential imagery of Canada found a ready market, and Coburn was fortunate to be widely collected during his lifetime.
The horse-drawn sleigh in winter is a typical image of early eastern Canada. Coburn's repeated explorations of the strength and intelligence of the horse, a constant theme in his work, are infused with dignity and grace. They exemplify the young country he painted as hardworking and strong. Bathed in radiant light, covered in snow, with expansive and beautifully painted skies, these paintings are idyllic examples of a time we look back on with a collective national fondness.

Estimation: 25,000 $ ~ 30,000 $ CAN

Vendu pour: 43,875.00 $ CAN (prime d'achat incluse)