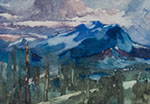 Printemps 2010 - 2e séance Vente en salle
Lot # 110

Paul Rand
BCSFA 1896 - 1970 Canadian

Rest
oil on board 1939
signed and on verso titled
40 x 47 1/2 in 101.6 x 120.6cm

Provenance:
Estate of the Artist
Acquired from the above in 1974 by Douglas Cole, Vancouver
By descent to the present Private Collection, Vancouver

Literature:
Paul Rand 1896 - 1970, Simon Fraser Gallery, 1972, listed, unpaginated
Maria Tippett and Douglas Cole, From Desolation to Splendour: Changing Perceptions of the British Columbia Landscape, 1977, pages 112 and 113
Luke Rombout, Vancouver Art and Artists 1931 - 1983, Vancouver Art Gallery, 1983, listed page 392, reproduced page 39

Exhibited:
Simon Fraser Gallery, Simon Fraser University, Burnaby, Paul Rand 1896 - 1970, February 22 - March 10, 1972
Burnaby Art Gallery, Eye Spy, summer 1976
The Art Gallery of Greater Victoria, 1980
Vancouver Art Gallery, Vancouver Art and Artists 1931 - 1983, October 15 - December 31, 1983

Born in Bonn, Germany, Paul Rand studied at an art school in Frankfurt am Main. He traveled to Canada in 1912, but with the outbreak of World War I, he was considered an enemy alien and cut off from Germany. He later settled in Vancouver in 1926, working as a commercial artist and taking courses at the Vancouver School of Decorative and Applied Arts with J.W.G. Macdonald, W.P. Weston and Frederick Varley. Rand became part of a new generation of artists on the West Coast, showing at both the BC Society of Artists' annual exhibitions and the BC Artists' Annuals at the Vancouver Art Gallery. Rand's work is characterized by a strong awareness of mass, bright colour and simplified form. In his work, the influence of American social realism artists can be seen. As Maria Tippett and Douglas Cole (one of the former owners of this work) wrote in reference to Rand's work, "The canvases of Thomas Hart Benton and others of the American Scene movement show similar stylistic elements and share the same feeling for regional identities." Rest is an exceptional example of Rand's figurative painting - a lush and dreamy nude highlighted by the exquisite rendering of softly-folded fabric.

Estimation: 20,000 $ ~ 30,000 $ CAN

Vendu pour: 46,800.00 $ CAN (prime d'achat incluse)