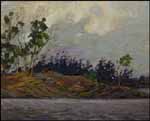 Printemps 2010 - 2e séance Vente en salle
Lot # 178

Thomas John (Tom) Thomson
OSA 1877 - 1917 Canadian

Early Morning, Georgian Bay
oil on board
on verso titled, dated 1914 on the G. Blair Laing label and stamped faintly with the estate stamp
7 1/2 x 9 1/2 in 19 x 24.1cm

Provenance:
G. Blair Laing Limited, Toronto
Private Collection, Montreal
By descent to the present Private Collection, Vancouver

Literature:
Dennis Reid, editor, Tom Thomson, Art Gallery of Ontario / National Gallery of Canada, 2002, page 298

In 1914, Tom Thomson spent part of his spring and summer at Georgian Bay. The area served as a seasonal magnet for artists due to the good offices of ophthalmologist Dr. J.M. MacCallum who invited Thomson and friends such as A.Y. Jackson, Arthur Lismer, J.E.H. MacDonald and F.H. Varley, though all at different times, to stay with him and his family in the rambling cottage he had built on property he owned near Go Home Bay. Mingling with the genial doctor, his family and guests, these painters, and many others later, found Georgian Bay a productive and picturesque setting.
Thomson, who arrived at Georgian Bay on May 30, 1914 and left early in August, seems to have found the atmosphere of the cottage less than congenial. He wanted to camp, not to attend birthday parties or chat with children. For him, the place recalled the home life in one of the more well-to-do neighbourhoods of Toronto, the city where he lived and worked most of the year. As he wrote to Varley in July, "This place is getting too much like north Rosedale to suit me - all birthday cakes and water ice etc."
This sketch resembles others he painted in Georgian Bay in the expression of his delight in conveying the scene before him with its distinctively sculptural effect formed from the contrasting shapes of the low whale-back rocks and wind-blown pines. Observing his usual habit, he seems to have painted first the trees at left, then the rocks, background and water, followed by the sky which he applied with a drier brush (note that in some places the branches of the trees are almost obliterated by grey patches of sky). As in other sketches, he built up the masses of rock and tree foliage using a heavier paint application.
However, in contrast to his usual theme of windy weather in the islands, in this sketch of dawn in the north, he chose to depict a more tranquil moment, one that reflected the serenity of the time of day. Due to the mysterious pearly light which heralds dawn in the north, he discovered new colour in the rocky island - red, gold and blue. The result is livelier than many other works he painted in this season.
Thomson wrote in his letter to Varley that he had "not made any sketches for a few weeks" but felt like "starting in again." Possibly this painting, with its delicate way of capturing light, was painted in the latter part of his trip. At this time, having become accustomed to the landscape of Georgian Bay, he would have been seeking novel ways to express its essential qualities. In its own quiet way, and especially with the motif of the bent pine that Thomson painted on the right side of the work, it serves as a harbinger of the imaginative and important masterpieces he would create in the future.
We thank Joan Murray for contributing the above essay.
This work will be included in Joan Murray's forthcoming catalogue raisonné on the artist's work.

Estimation: 200,000 $ ~ 300,000 $ CAN

Vendu pour: 222,300.00 $ CAN (prime d'achat incluse)