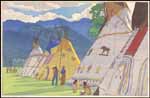 L'automne 2008 - 2e séance Vente en salle
Lot # 179

Walter Joseph (W.J.) Phillips
ASA CPE CSPWC RCA 1884 - 1963 Canadian

Indian Days, Banff
colour woodcut 1950
signed, titled and editioned 32/100
9 7/8 x 15 3/8 in 25.1 x 39cm

Provenance:
Private Collection, Vancouver

Literature:
Roger Boulet, Walter J. Phillips: The Complete Graphic Works, 1981, reproduced page 565

Phillips's first trip to the Rockies was in 1926 and, over a fifteen-year period, he often returned. Starting in 1940, Phillips was a summer instructor at the Banff School of Fine Arts, and moved to Banff in 1948. Indian Days, Banff is based on a three-day summer festival held by native Indians in a camp of 40 to 50 teepees, with parades in traditional dress, rodeos and tribal dances.

Estimation: 12,000 $ ~ 16,000 $ CAN

Vendu pour: 11,115.00 $ CAN (prime d'achat incluse)