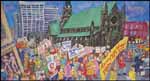 L'automne 2008 - 1ère session Vente en salle
Lot # 080

Miyuki Tanobe
RCA 1937 - Canadian

Année de la femme - 1975 - Women's Year
mixed media on board
signed and on verso signed, titled and dated June 30, 1976
30 x 56 in 76.2 x 142.2cm

Provenance:
Marlborough-Godard, Toronto
Private Collection, Montreal

Miyuki Tanobe was 34 years old when she immigrated from Japan and settled in Saint-Antoine-sur-Richelieu, Quebec. One could assume she experienced the heavy hand of an old patriarchal society growing up in post-war Japan by her inclusion of the feminist protest gathering in Année de la femme - 1975 - Women's Year. Tanobe paints in nihonga, an old form of Japanese painting that uses traditional artistic conventions, techniques and materials, and her unique style has been described as pseudo naïve. Tanobe challenges her admirers with a blunt look at the challenges and obstacles taken on by the Women's Movement of the 1970s. The central figure of the landmark, Christ Church Cathedral on rue St. Catherine's, is contrasted to a skewed window display of women's lingerie to the left; a contradiction of sorts that depicts the complexities of women's rights. But the viewer still feels her deep affection for the city of Montreal, in her playful details of a rich cosmopolitan scene on a winter's day alongside her commitment to the solidarity of les femmes unies.

Please note: This work will be available for pick-up or delivery from PacArt, Toronto, post-auction.

Estimation: 20,000 $ ~ 25,000 $ CAN

Vendu pour: 32,175.00 $ CAN (prime d'achat incluse)