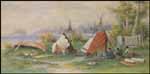 Art canadien printemps 2008 Vente en salle
Lot # 099

Frederick Arthur Verner
ARCA OSA 1836 - 1928 Canadian

Indian Encampment, North Shore, Lake Huron
watercolour on paper on board
signed, dated 1902 and inscribed on the board no. 17 North Shore, Lake Huron (covered by the mat) and on verso titled on the Petro Canada label "Indian Encampment"
10 3/4 x 20 3/4 in 27.3 x 52.7cm

Provenance:
Petro Canada, Calgary
Private Collection, Ohio

Literature:
Joan Murray, The Last Buffalo, 1984, page 25

Indian Encampment, North Shore, Lake Huron is a subtle and poetic representation of the Canadian wilderness. In his paintings, Verner was able to convey a sense of calm that satisfied the European expectation of what the Canadian wilderness was like, which yielded Verner strong sales of his paintings overseas. Joan Murray states, "The valleys with mist rising from the lakes came to seem his own paradise consecrated by the presence of the Indian people who, in his romantic view, expressed the natural state of man, before kings, laws and prohibitions." Enhancing the tranquil theme of his paintings, as in this fine watercolour, is Verner's masterful ability to capture the atmospheric effects of the landscape, allowing viewers to sense the romantic Canadian wilderness.

Estimation: 12,000 $ ~ 15,000 $ CAN

Vendu pour: 13,800.00 $ CAN (prime d'achat incluse)