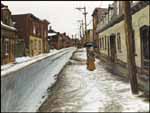 Art canadien printemps 2008 Vente en salle
Lot # 013

John Geoffrey Caruthers Little
ARCA 1928 - Canadian

Une journée sombre de mars rue Christophe-Colombe, Québec
oil on canvas
signed and on verso signed, titled, dated 1978 and inscribed "Michael Clarence McMahon, Quebec Aces - Montréal Canadiens, Brockville, Ontario, February 1, 1917"
12 x 16 in 30.5 x 40.6cm

Provenance:
Manuge Galleries Ltd., Halifax
Private Collection, Ontario

The city of Montreal was undergoing volatile urban renewal in the late 1970s, which was passionately protested by residents of long-standing neighbourhoods for the city's lack of foresight and management. The charming nineteenth century duplexes of Christophe-Colombe depicted in this work were to be replaced by utilitarian row houses.

The inscription on this work refers to well-known professional hockey player Mike McMahon, who was born in Brockville.

Estimation: 6,000 $ ~ 8,000 $ CAN

Vendu pour: 5,750.00 $ CAN (prime d'achat incluse)