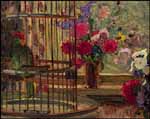 Vente en salle d'art canadien de l'automne 2007 Vente en salle
Lot # 159

James Edward Hervey (J.E.H.) MacDonald
ALC CGP G7 OSA RCA 1873 - 1932 Canadian

Parrot at Warren Road
oil on board
initialed and dated 1918 indistinctly and on verso signed and titled on a label
8 1/2 x 10 1/2 in 21.6 x 26.7cm

Provenance:
Gift from the Artist to the previous owner's grandparents, Toronto
Sold sale of Fine Canadian Art, Heffel Fine Art Auction House, November 24, 2005, lot 10
Private Collection, Toronto

The previous owner's grandparents were very close friends of J.E.H. MacDonald and his wife. They lived at 169 Warren Road, the garden of which is the subject of this painting. The MacDonalds stayed at their residence often and in fact, after J.E.H. MacDonald passed away, Mrs. MacDonald lived for a short time with them on Warren Road.

Estimation: 100,000 $ ~ 150,000 $ CAN

Vendu pour: 86,250.00 $ CAN (prime d'achat incluse)