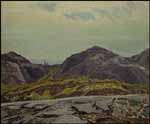 Vente en salle d'art canadien du printemps 2006 Vente en salle
Lot # 093

Franklin Carmichael
CSPWC G7 OSA RCA 1890 - 1945 Canadian

Grace Lake, La Cloche Hills
oil on board
on verso dated 1936, inscribed with the estate inventory #OS-3-Z and stamped with the estate stamp
10 x 12 in 25.4 x 30.5cm

Provenance:
By descent to the present Private Collection, Ontario

Literature:
Megan Bice, Light & Shadow: The Work of Franklin Carmichael, essay by Mary Carmichael Mastin, "The La Cloche Decision", McMichael Canadian Art Collection, 1990, page 111

Franklin Carmichael was immediately struck by the stark beauty of the La Cloche region to the north of Lake Huron when he first visited in the early 1920s, and he returned to the area again and again, building a cabin for his family on Cranberry Lake in 1935. As Carmichael's daughter Mary has noted, Grace Lake, which could be reached by a portage from Cranberry Lake, "was Carmichael's favourite haunt". Interestingly, in this sketch, he has chosen to concentrate, not on the lake itself but on the contrasts between the quartzite rock formations and the foliage patterns of the small brush on the shores of the lake. These players in his visual drama are set against a relatively quiet sky, punctuated only by a small grouping of clouds that counterbalances the shape of the main rock form. The lack of detail in depicting the plant life suggests that this was of relatively little interest to Carmichael, and serves to emphasize the monumentality of the rock forms themselves. The great masses of the mountains seem to float in a sea of brush. The contrast between the relatively barren foreground and the rich elements of the middle ground give the work a greater sense of depth and, interestingly, reinforce the drama of the landscape as a whole. As his daughter has observed, Carmichael's paintings of this region "are testimony to his love for a region he explored with physical, spiritual and artistic fervour".

Estimation: 90,000 $ ~ 120,000 $ CAN

Vendu pour: 149,500.00 $ CAN (prime d'achat incluse)