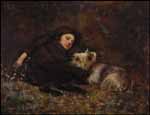 Vente en salle d'art canadien du printemps 2006 Vente en salle
Lot # 031

Paul Peel
OSA RCA 1860 - 1892 Canadian

Young Girl with Terrier
oil on canvas
signed and dated Paris, 1889
21 1/2 x 28 in 54.6 x 71.1cm

Provenance:
G. Blair Laing Limited, Toronto
Private Collection, Toronto

Literature:
Victoria Baker, Paul Peel: A Retrospective 1860 - 1892, London Regional Art Gallery, 1986, page 58

Paul Peel was a prominent nineteenth century Canadian painter whose premature death one month short of his thirty-second birthday has deprived history of a true comprehension of his full pictorial promise. A native of London, Ontario, Peel commenced his formal training in 1877 at the Pennsylvania Academy of Fine Arts where he studied figure and portrait painting under the distinguished American painter Thomas Eakins. He then traveled to Paris to the Académie des beaux-arts where he was formally admitted to the atelier of Jean-Léon Gérôme in April 1882.

Active during the heady days of la belle époque when artistic innovations echoed the stirring mood of an era, Peel's formative development would oscillate between two major French schools of artistic thought - Salon painting with its insistence on strict academic formulae, and the fresh and freeing tenets of the Impressionist style. Ultimately, though, Peel was a superb and successful genre painter who worked in a generational manner known as "le juste milieu". True, his inspiration was international, and it was French, but his focus on figure painting as opposed to landscape painting, and his conviction that art was primarily "a studio enterprise" with pre-established compositional and formal models, situates him firmly within the conservative camp of academic painting.

Paul Peel's art historical significance derives from his accomplishment as a painter of childhood, and his subjects rarely strayed from representations of mothers, children and adolescent nudes, which he articulated in a manner at once structured and sentimental. While he is known to have applied the luminous tenets of Impressionism to his canvases, Peel's production remains one dedicated to interior figure studies that simply appropriate elements and attributes associated with the out-of-doors.

Young Girl with Terrier was executed in 1889, the year Peel (along with George Reid) took up studies with Benjamin Constant at the Académie Julian. The artist was on the brink of international recognition that year, exhibiting regularly and to much acclaim in his native Canada where he was elected a full member of the Royal Canadian Academy in 1890, as well as at the Paris Salon where his work generated considerable public and critical attention and where, one year later, his infamous After the Bath would win him the coveted bronze medal.

Young Girl with Terrier is a superb example of Peel's classically organized and slickly rendered studio compositions. In its "poesie" and narrative appeal, it epitomizes the artist's unique talent at capturing the nineteenth century's popular imagination. Constructed within a shallow, stage-like setting, the composition was undoubtedly executed indoors and speaks to an interior sensibility, despite its references to a natural setting. The demeanour and disposition of the central subjects, a young girl and her small terrier nestled in tranquil repose, suggest a sense of relaxed familiarity between the artist and his models. That said, their identity must remain anonymous; for while it is known that Peel frequently used family members as sitters, he also actively engaged in the usual norm of hiring properties - studio models, props and accessories, to populate his canvases.

This exquisite painting represents Paul Peel at the height of his abilities. The canvas's deep, rich colouring and slick, subtle play of tonal dynamics, along with the artist's virtuoso handling of his brush, serve to compel our aesthetic interest and admiration. The mood of innocent reverie which permeates Young Girl with Terrier furthers the painting's sensory appeal, eliciting what the poet Duncan Campbell Scott described as "that strain of tender and poetic feeling" which was so uniquely Paul Peel.

Estimation: 70,000 $ ~ 90,000 $ CAN

Vendu pour: 184,000.00 $ CAN (prime d'achat incluse)