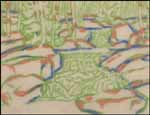 Vente en salle d'art canadien de l'automne 2005 Vente en salle
Lot # 007

David Brown Milne
CGP CSGA CSPWC 1882 - 1953 Canadian

Waterfall
colour drypoint on Japanese paper June - July 1930
signed
7 x 9 in 17.8 x 22.9cm

Provenance:
Private Collection, Toronto

Literature:
Rosemarie L. Tovell, Reflections in a Quiet Pool: The Prints of David Milne, National Gallery of Canada, 1980, pages 145 and 146, reproduced pages 130 and 144

Exhibited:
National Gallery of Canada, Reflections in a Quiet Pool: The Prints of David Milne, same image, 1980, catalogue #60

In writing about this rare drypoint Tovell comments, "The waterfall is on a tributary of Bashbish Brook near Milne's Alander cabin. The print is based on the painting The White Waterfall which Milne had with him at Palgrave. The painting, which recalled happy memories of the 1920 - 1921 winter on Alander Mountain, was a sort of talisman to Milne. Not only did he consider it as one of his finest works, influencing his watercolours and oils throughout the twenties, but he also regarded it with a sense of achievement, as one of the few works he was able to successfully work on over a long period of time without losing his 'aesthetic quickening.'.Although Milne signed the edition out of fifty (at least seven impressions are numbered within the edition), not more than twelve signed impressions can be accounted for, despite Milne's correction of the edition to twenty-five, in a letter to Duncan in 1936. No unsigned proofs have been located."

Estimation: 20,000 $ ~ 25,000 $ CAN

Vendu pour: 34,500.00 $ CAN (prime d'achat incluse)