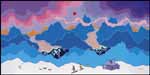 Fall 2010 - 1st Session Live auction
Lot # 059

Ted Harrison
OC SCA 1926 - Canadian

Kluane Skiers
acrylic on canvas
signed and on verso signed, titled and dated 1985
48 x 96 in 121.9 x 243.8cm

Provenance:
Private Collection, Montreal

Literature:
Katherine Gibson, Ted Harrison: Painting Paradise, 2009, page 166

As a resident of the Yukon for 26 years, Ted Harrison developed a strong relationship with the land and its residents, both of whom acted as muses for his work. Kluane Skiers illustrates a vignette of daily life in the North and, typical of his work, the human and animal figures dot the landscape and allow the whimsical power of the mountains and sky to dominate the canvas. Executed in 1985, the work erupts with energy as ribbons of colour dance across the sky. Harrison discussed in an interview how the 1980s emerged as a pivotal period in his artistic development, stating, "Gradually it came to me...the landscape is a series of waves. Everything moves except the edges of the mountains against the sky. I just went with the flow...did whatever nature suggested to me." As a result, his canvases during this period emerged with an increased vibrancy of colour, and a precision and simplicity of composition. It would be his most prolific period and solidified his status in Canadian contemporary painting.

Estimate: $20,000 ~ $30,000 CAD

Sold For: $55,575.00 CAD (including buyer's premium)