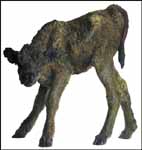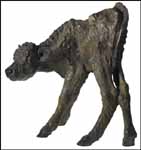 Fall 2009 - 1st Session Live auction
Lot # 082

Joseph Hector Yvon (Joe) Fafard
OC RCA 1942 - Canadian

Jenny le Torre
bronze sculpture
editioned 1/5
19 x 18 x 12 in 48.3 x 45.7 x 30.5cm

Provenance:
Private Collection, Vancouver

Literature:
Terrence Heath, Joe Fafard, National Gallery of Canada and the MacKenzie Art Gallery, 2007, page 138

Joe Fafard's roots were rural - he was one of 12 children raised on a farm in Ste. Marthe, Saskatchewan, where he milked cows and worked with animals daily. Cows are often they are comical in a tongue-in-cheek way, but Fafard's interest was as much in the sculptural aspects of the cow, its angles and curves, as in the humorous reaction his audience might have. He stated, "I don't think the cows are just funny. I find them very interesting as a sculptural problem, but I think that people who walk into a room and they're not concerned with my sculptural problem, what they'll be concerned with is their visual reaction...they'll get a kick out of it after they realize...what's going on there."
Fafard's sculptures have been compared to political cartoons, wherein the features that define the subject are over-emphasized. Cows' knees bulge, hides are overly hairy, posture is accentuated. Each animal is a distinct individual, and in Jenny le Torre, we see a young, long-lashed calf in a playful pose, her eyes the focal point, their gaze delicate and their handling exceedingly fine.

Estimate: $8,000 ~ $12,000 CAD

Sold For: $26,325.00 CAD (including buyer's premium)