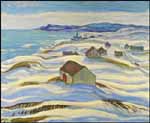 Fall 2009 - 2nd Session Live auction
Lot # 230

Alexander Young (A.Y.) Jackson
ALC CGP G7 OSA RCA RSA 1882 - 1974 Canadian

Looking Towards Cap à l'Aigle from Saint-Fidèle
oil on canvas
signed and on verso titled
21 x 25 in 53.3 x 63.5cm

Provenance:
O.J. Firestone, Ottawa
Private Collection, Toronto

Literature:
A.Y. Jackson, A Painter's Country, The Autobiography of A.Y. Jackson, 1958, page 62

Exhibited:
University of Alberta, Calgary, Exhibition of Works by Members of the Group of Seven from the O.J. Firestone Collection, September, 1963

One of the favoured painting locations of A.Y. Jackson was Saint-Fidèle, a small village along the St. Lawrence seaway, north of La Malbaie. The region's isolation and beauty attracted Jackson and other artists such as sketching companion Frederick Banting, and this remote landscape was particularly breathtaking in winter. Jackson fondly recalls one such trip to Saint-Fidèle in his memoir A Painter's Country, in a letter to Dr. James MacCallum detailing an adventurous sketching trip with Banting. He wrote, "We are plugging away. It is still midwinter here and piles of snow. 'Bigger and better snowdrifts' is Banting's slogan...No newspapers, no radio and only enough water to wash once a day and yet we were happy."
The joy and passion Jackson felt for the Laurentians and surrounding areas of French-speaking Canada is evident in this captivating winter scene. Looking towards Cap à l'Aigle from Saint-Fidèle consists of all the best painterly qualities that are characteristic of a Jackson canvas, such as a rhythmic composition and vigorous brushwork. The perspective is atop a hillside dotted with charming farmhouses with colourful roofs, overlooking the blue tones of the icy St. Lawrence.

Estimate: $80,000 ~ $120,000 CAD

Sold For: $87,750.00 CAD (including buyer's premium)