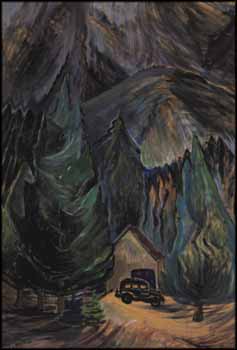 Lot # 141
Œuvres d'art canadien Live auction

Emily Carr
BCSFA CGP 1871 - 1945 Canadian

Forest Interior with Car and Cottage
oil on paper on board circa 1934
signed with the Estate stamp and on verso titled as Forest Interior on a gallery label
34 1/4 x 23 1/2 pouces 87 x 59.7cm

Provenance:
Estate of the Artist, Victoria
Dominion Gallery, Montreal
Galerie Walter Klinkhoff Inc., Montreal
Private Collection, Vancouver, circa 1970
By descent to the present Private Collection, Vancouver

Référence:
Doris Shadbolt, Emily Carr, 1979, pages 112 and 114, a similar canvas entitled The Mountain, in the McMichael Canadian Art Collection, and a similar oil on paper entitled Houses Below the Mountain, in the collection of the Government of Alberta, reproduced page 130

In the mid-1930s, Emily Carr's prime subject was the forest, and she developed a pattern of sketching trips in spring and autumn, with intervals in between devoted to studio work.
In the immediate vicinity of her Victoria home were prime sketching locations such as Goldstream, Esquimalt and Metchosin. Working out-of-doors was important to Carr, as she stated, "What I am after is out there in the woods....I like it fresh." Watercolour, a medium she had used earlier in her work, was no longer adequate for her desire to sketch in the open air and for the scope of her imagery. The Group of Seven had used small, portable wood panels, but Carr never did. She liked to experiment and use a lot of paint - and the medium that she adopted, oil thinned by turpentine or gasoline, fit her needs well. Carr painted on inexpensive manila paper in standard-size sheets, which were light to carry. She was able to use sweeping brush-strokes, and the paint dried quickly, a practicality when outdoors. Carr claimed this medium gave her "freedom and direction. You are so unafraid to slash away because material scarcely counts." With it, she could boldly create the structure of her landscapes while capturing the energy and movement present in the forest.
Carr was well known for her documentation of First Nations villages and totems, but this is a rare example of a depiction of western habitation in her forest works. Even more rare is the inclusion of a classic 1930s automobile. The forest enfolds the house and rises above it into what appear to be towering mountains. The work is reminiscent of several paintings from a 1933 trip to Brackendale, Pemberton and Lillooet in which she included houses at the foot of mountains. Two examples are a canvas entitled The Mountain, in the McMichael Canadian Art Collection, and an oil on paper entitled Houses Below the Mountain, in the collection of the Government of Alberta. Her comments about experiencing "great dominating strength and spirit brooding there" could apply to the mood of this work.
There is something quite intriguing about the cottage, which, positioned right up against the forest, is overshadowed by its surroundings. There are no windows on the front and it does not possess a garden - the car indicates a human presence, but there is no other sign of it. The trees have tremendous force - their forms are flame-like, their movement strongly vertical. The tree on the left recalls Carr's earlier Cubist enfolded trees, and the whole forest is dense and potent. Carr captures energy sweeping up from the bare forest floor, then up in layer after layer to a downward-streaming sky that also reads as mountains. This painting is one of her oil on paper works that are more thickly painted, adding to the effect of the dark woods. Carr balances the deepness of her greens and blacks with the use of white to bring in light, as does the bare paper. The manila paper has turned orange over the years, but acts to warm and light the image, its emergence throughout unifying it. It particularly illuminates the ground under the trees and in front of the house, drawing the eye towards the house and car.
In this powerful work, Carr captures the intensity of the wild coastal forest and mountains, which intimidated many artists who attempted their depiction. Carr was able to show us the "great dominating strength and spirit" of this landscape and fill us with awe in its contemplation.
The first major solo exhibition of Emily Carr's work in Europe - From the Forest to the Sea: Emily Carr in British Columbia - will take place at the Dulwich Picture Gallery in London from November 1, 2014 to March 8, 2015. This show will travel to the Art Gallery of Ontario in Toronto and be on exhibit from April 11 to July 12, 2015.


Estimation:
150,000 $ ~ 250,000 $ CAN
Vendu pour:
177,000 $ CAN (prime d'achat incluse)

Tous les prix sont en dollars canadiens.
Nous avons fait en sorte d'assurer l'exactitude de l'information affichée, mais des erreurs ou oublis peuvent se produire. Toute acquisition est soumise à nos modalités et conditions.