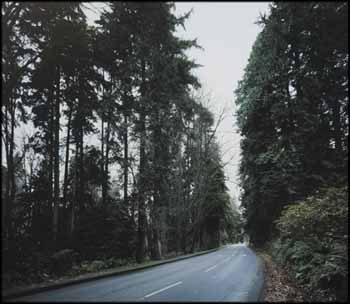 Lot # 042
Canadien d'après ~ guerre & contemporain Live auction

Jeff Wall
OC 1946 - Canadian

Park Drive
opaque inkjet print on paper on aluminum 1994
47 1/2 x 53 3/4 pouces 120.6 x 136.5cm

Provenance:
Collection of the Artist
Private Collection, Vancouver

Référence:
Jeff Wall and Jean-François Chevrier, "Conversation between Jeff Wall and Jean-François Chevrier," Jeff Wall: Tableaux, Astrup Fearnley Museet for Moderne Kunst, 2004, page 98
Jeff Wall, "About Making Landscapes," Jeff Wall: Selected Essays and Interviews, edited by David Frankel, The Museum of Modern Art, 2007, page 169
Michael Newman, Jeff Wall: Works and Collected Writings, 2007, the 1994 transparency in lightbox reproduced page 137
Jeff Wall and David Campany, "Jeff Wall Speaks with David Campany," Conversations with Photographers, Vol. 6, 2009, page 44
Inka Graeve Ingelmann et al., Jeff Wall in München, Pinakothek Der Moderne, 2013, the 1994 transparency in lightbox reproduced page 39

Exposition:
Pinakothek Der Moderne, Munich, Jeff Wall in München, November 7, 2013 - March 9, 2014, same image, transparency in lightbox

The most internationally acclaimed Canadian artist of this generation, Jeff Wall is a central figure in the emergence of photography as a dominant influence in contemporary art. On his return to Vancouver after studying art history at the Courtauld Institute of Art in England, Wall became a leading figure almost from his first large-scale back-lit photographic transparency, entitled The Destroyed Room, exhibited at Vancouver's Nova Gallery on West 4th Avenue in 1978. This was followed by a solo exhibition in 1979 at the Art Gallery of Greater Victoria. In an era dominated by minimalist abstract art, his interests ran counter to this, and he sought out alternative modes of artistic expression through photography. Wall's photographs move between genres, and his pursuit of landscape photography began before the colour transparencies for which he is now recognized with Landscape Manual 1969-70, a small booklet containing black and white photographs of Vancouver taken from the window of a moving car.
Wall's long and distinguished list of solo exhibitions at major art museums on most continents in the past decade includes the Stedelijk Museum, Amsterdam; Museum of Modern Art, New York; Tate Modern, London; as well as museums in Munich, Tel Aviv, Sydney and Brussels. His achievements have been acknowledged through numerous awards, such as Officer of the Order of Canada and the Hasselblad Foundation Award in Photography. It is not difficult to understand this acclaim, as his photographs can be said to have transformed contemporary art.
Landscapes are central throughout Wall's practice. However, like many of the most important artists who made significant contributions to this genre, such as John Constable, Jacob van Ruisdael and Nicolas Poussin, Wall has said his landscapes are pictures of places, "not really landscapes even. They're just little places." Modest, mainly documentary images such as The Crooked Path and Park Drive equally point to interests beyond the picturesque. What distinguishes his work is the avoidance of common tropes in landscape photography, which usually emphasize either a lack of development, or excessive development, or humans in apparent harmony with nature. As with all of his photographs, Wall's landscapes reveal a moment in the layered stories of urban life and human habitation, in a place one can imaginatively know. Each documents a common, nearly familiar place and stands as a record of the passage of time.
Park Drive calls attention to what might be considered banal or even unphotogenic, and like other of his landscape photographs, it features the less observed hinterland on the fringe between a city and its suburbs. A documentary photograph, Park Drive is an attentive social observation, a meditation on how habitation and land use are inscribed day by day in almost imperceptible layers on what was once nature. With its gently curving road, this landscape was obviously shaped by humanity; at its edges, autumn leaves have accumulated. The foliage is thicker on the right and noticeably thinner to the left, revealing a pale, overcast and featureless sky. The evergreen trees planted in a more orderly manner tracing the curve of the road are second growth, from after the first pass of logging - which was a common practice in Vancouver's Stanley Park until the 1880s. In the distance is a moving car, an incident on an otherwise unoccupied road that will break this imagined silence and the isolated, fragile stillness of a brief moment - a stillness you can almost hear - and return it to the everyday traffic of commuters in a city.
In "About Making Landscapes" in 1995, Wall states, "I make landscapes or cityscapes as the case may be, to study the process of settlement as well as to work out myself what the kind of picture (or photograph) we call a 'landscape' is." In Park Drive the resilience of nature and a seemingly idyllic natural plenitude remains and is held in balance with the equal or perhaps overpowering presence of the asphalt road. In combination they "produce a gently receding space, a sober, measured kind of poetry typical of classical composition," a phrase Wall used when referring to his admiration of Poussin. This quite urban scene is reminiscent of those artists Wall admires, whose best landscapes, like his own, present the nuances of an inhabited place, depictions of landscapes constantly in flux that connect to experiences common to viewers, then as now.
We thank Gary Dufour for contributing the above essay. Dufour was the curator of the exhibition Jeff Wall Photographs, presented in Perth, Melbourne and Sydney in 2012 - 2013, as well as Jeff Wall 1990, shown at the Vancouver Art Gallery and the Art Gallery of Ontario in 1990.


Estimation:
250,000 $ ~ 350,000 $ CAN
Vendu pour:
259,600 $ CAN (prime d'achat incluse)

Tous les prix sont en dollars canadiens.
Nous avons fait en sorte d'assurer l'exactitude de l'information affichée, mais des erreurs ou oublis peuvent se produire. Toute acquisition est soumise à nos modalités et conditions.