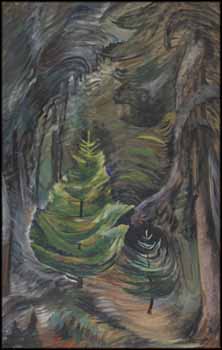 Lot # 142
Œuvres d'art canadien Live auction

Emily Carr
BCSFA CGP 1871 - 1945 Canadian

Forest Interior
oil on paper circa 1936
signed
34 3/4 x 22 1/2 pouces 88.3 x 57.1cm

Provenance:
Acquired directly from the Artist by the Clarke family
By descent to the present Private Collection, USA

Référence:
Emily Carr, Hundreds and Thousands: The Journals of Emily Carr, 2006, page 315

Emily Carr's relationship to the landscape of her native province was a lengthy one. From the earliest years of her career, she turned her attention to the natural world, beginning with small drawings and watercolours of Victoria and Esquimalt. Following her period of study in England at the turn of the century, upon her return to Vancouver she depicted the forest glades of Stanley Park in watercolours such as Wood Interior, 1909, in the collection of the Vancouver Art Gallery. However, after her trip to Alaska in 1907, her attention was increasingly captured by First Nations subjects. This remained the case following her training in France in 1911.
Fauvist pictorial language allowed her a new freedom in her painting, which was focused on the totemic monuments and First Nations villages of the coastal regions of British Columbia. Landscape played a part in her work but, for the most part, it was subservient to her goal of documenting the First Nations cultures that she believed were fast disappearing. Following the less than enthusiastic reception of her 1912 paintings and her decision to return to Victoria and pursue other means of support (such as building her famous House of All Sorts and becoming a landlady), she only occasionally pursued landscape as her subject matter.
It was not until the 1930s that Carr made the landscape her principal focus. By then she was in her sixties and, with the encouragement of her friend and mentor Lawren Harris, she turned away from First Nations subjects, which had been her central focus from 1927 to 1931, and returned to the forests in a way that she had not done since her watercolours of 1908 to 1909. These new landscape works were different in spirit, however - bolder, more confident, and more expressive of the vitality and wonder of the natural world. Part of this shift occurred because Carr had also begun to use a new medium - oil on paper. While Carr's use of the medium was not new, the way that she used it was certainly new to Canadian art. By thinning her paint with gasoline, Carr was able to achieve a freer, more fluid brush-stroke, one that allowed her to paint nature as she saw it, animated by a sense of movement that suggested the life force of the trees. This sweeping movement is clearly seen in Forest Interior, a painting that dates to the period 1936 to 1937. The whole composition shimmers with the swirling movement of her fluid brush-strokes; the landscape is alive.
Although using gasoline-thinned paint brought greater freedom, it also brought the danger of insubstantiality. However, Carr, as her paintings of the late twenties and very early thirties demonstrate, had a great appreciation of volume and form. In this work she has brilliantly conveyed a sense of the third dimension by silhouetting the side of the small conifer on the left, suggesting that it stands before the forest background. Similarly, she has made the right side of the composition advance through the use of the solidly painted trunk of the tree on that side of the work. The whole composition is unified by the sense of movement, but Carr has been careful to allow some individual trees to emerge forcefully. In April of 1936 she wrote: "It must be organized chaos with the elimination of unnecessaries, massing of individuals into group movements, space swinging into space, movement meeting movement, balance, borrowing and paying back, density and immensity that is so obvious in our Western woods." Her words describe Forest Interior perfectly.
William H. Clarke's firm Clarke, Iwin & Company Limited published Carr's books Klee Wyck, The Book of Small and The House of All Sorts, amongst others. Clarke and his wife Irene were strong supporters of Carr, exchanging correspondence, visiting her in her home and acquiring her paintings for their collection.
The first major solo exhibition of Emily Carr's work in Europe - From the Forest to the Sea: Emily Carr in British Columbia - will take place at the Dulwich Picture Gallery in London from November 1, 2014 to March 8, 2015. This show will travel to the Art Gallery of Ontario in Toronto and be on exhibit from April 11 to July 12, 2015.


Estimation:
100,000 $ ~ 150,000 $ CAN
Vendu pour:
200,600 $ CAN (prime d'achat incluse)

Tous les prix sont en dollars canadiens.
Nous avons fait en sorte d'assurer l'exactitude de l'information affichée, mais des erreurs ou oublis peuvent se produire. Toute acquisition est soumise à nos modalités et conditions.