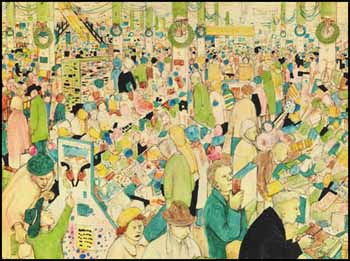 Lot # 017

William Kurelek
ARCA OC OSA 1927 - 1977 Canadian

A Sketch for the Poem, Pacem in Terris
mixed media on paper on board
initialed and dated 1970 and on verso titled
14 3/4 x 20 in 37.5 x 50.8cm

Provenance:
A gift from the Artist to a Private Collector, Ontario
Uptown Gallery, Toronto
Private Collection, Toronto

This sketch was originally intended to be part of the Pacem in Terris or Peace on Earth series, inspired by a poem written by Father Murray Abraham, who was a friend of William Kurelek's and who operated a school near Darjeeling, India. Kurelek traveled to India in 1970, where he was overwhelmed by the poverty and human strife that he saw. He produced a series of drawings based on these Indian themes, and a film of the same name was produced in 1971.
Here, Kurelek brings his theme closer to home by dwelling on an annual Canadian ritual. Reminiscent of his early trompe l'oeil paintings, it is a cornucopia of minute details. Christmas shoppers pack Eaton's department store under an array of decorations and amid the season's offerings. According to the original owners, it is Kurelek himself who inspects a book in the foreground, while a child cries as his mother pulls him away from a display of toy guns. It is at once both a joyous depiction of Christmas shopping and an ironic comment on affluence and prosperity.

S'est vendu pour: $52,650.00 CAN (prime d'achat incluse)
Estimation: 50,000 $ ~ 70,000 $ CAN