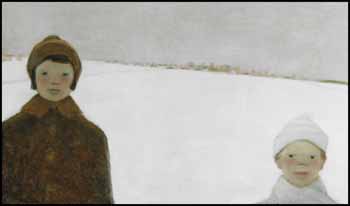 Lot # 040

Jean Paul Lemieux
CC QMG RCA 1904 - 1990 Canadian

Les enfants de la ville
oil on canvas
signed and dated 1965 and on verso titled
26 x 44 in 66 x 111.7cm

Provenance:
Galerie Gilles Corbeil, Montreal
Private Collection, Montreal
By descent to the present Private Collection, British Columbia

Référence:
Guy Robert, Lemieux, 1975, page 132

In this fine painting, Jean Paul Lemieux combined two subjects he was interested in: the city seen from far away and the two children facing us in the foreground. In previous works such as La ville lointaine, 1956, La ville illuminée, 1961, or Ville enneigée, 1963, not to mention Le croisement, 1963, sold by Heffel recently, Lemieux had already painted the city from a great distance, proposing a perfect opposite to the veduta (cityscape) where, according to tradition, the painter set his easel on a sidewalk and painted the street, the passersby and the façades of houses or churches in front of him.
Guy Robert, who wrote an important monograph on Lemieux, quoted him as saying, "Les villes me fascinent. Je les vois vidées, et j'aimerais peindre une grande ville entièrement déserte. (I am fascinated by the cities. I see them as completely empty and I would like to paint a big city totally deserted.)" At the end of his career, this phantasm of an empty city would take on political overtones and he would be drawn to the subject of cities annihilated by nuclear attack.
In Les enfants de la ville, the faraway vista of the city becomes just a background of another fascination of Lemieux - children. In his representations of them, he makes no concession to the sweetness of the subject. They are not smiling, they are not trying to engage with each other or with the onlooker. They are simply standing there in their winter garments, seemingly without the slightest anxiety for their situation - in the middle of nowhere, far from the city to which they belong (as the title announces, The Children of the City) - and to which they even turn their backs! But for all this lack of realism, we are not in a conceptual world. The snow is real. The red cheeks, the toques, the tightly fastened collars around the necks of the children...all this is real, as real as the distant city with its high-rise buildings, churches and more modest homes. On one hand, we are confronted with an idea, a concept, and on the other, with a scene. I think it is the combination of spirit and concrete existence that is so fascinating in Lemieux's works. It is not surprising that we are tempted to make a philosophical reading of this painting when we contemplate the children, simply being present in the empty landscape, and the city in the distance, defined only by its architectural profile, puny when compared to the cosmos.
This painting was acquired by its first collectors from Galerie Gilles Corbeil on Crescent Street, which was, for a period of more than 15 years (1969 - 1985), an important gallery in Montreal. This gallery was always a pleasure to visit because of the quality of the works presented and because the owner, Gilles Corbeil (1920 - 1986), was one of the most refined art critics I have ever met. He knew very well the latest developments in art in both France and Canada, and could speak as much about John Lyman as about Paul-Émile Borduas, having been a long-time friend of both. He was interested in music and poetry and was, through his mother Gertrude Nelligan, a nephew of the famous Quebec poet Émile Nelligan. He created the Émile Nelligan Foundation in 1979, which brings us to another connection with Lemieux. We know about the Hommage à Nelligan that Lemieux painted in 1971, which is in the collection of the Université de Montréal. In contrast to the views of distant cities mentioned above, the hommage is a real veduta, since Nelligan, whose home faced Saint-Louis Square, is shown standing in it. Needless to say, all these references were familiar to Lemieux.
We thank François-Marc Gagnon of the Gail and Stephen A. Jarislowsky Institute of Studies in Canadian Art, Concordia University, for contributing the above essay.

S'est vendu pour: $497,250.00 CAN (prime d'achat incluse)
Estimation: 200,000 $ ~ 300,000 $ CAN