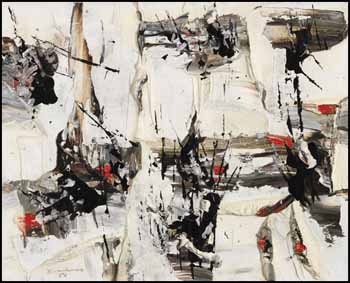 Lot # 009

Paul-Émile Borduas
AUTO CAS QMG RCA 1905 - 1960 Canadian

Ouvertures imprévues
oil on canvas
signed and dated 1956 and on verso titled on the Dominion Gallery label
13 x 16 in 33 x 40.6cm

Provenance:
Dominion Gallery, Montreal
Private Collection, Ontario

Ouvertures imprévues belongs to Paul-Émile Borduas's Parisian period of 1955 to 1960. In 1956, Borduas, who had not yet succeeded in making any fruitful contact with galleries or museums in Paris, received successive visits from Canadian gallery owners and collectors, who acquired most of his production of the preceding months. Max Stern of the Dominion Gallery in Montreal came in May and acquired 13 oil on canvases, among them our Ouvertures imprévues, and 11 watercolours. Soon after, Montreal collectors Gerard and Gisele Lortie visited Borduas's studio and acquired six paintings; in July, Montreal gallery owner Agnès Lefort bought two paintings; in August, R.H. Hubbard from the National Gallery obtained the famous Sea Gull; and finally in September, Martha Jackson, the well-known New York gallery owner, acquired nine of his most recent paintings. This enabled Borduas to take a break after this intensive period of work; he bought a Simca convertible car and made a trip to Italy later in September.
All these commercial activities were certainly beneficial for the painter, but create some difficulties for the historian! Paintings sold to gallery owners or to private collectors tend to disappear from sight and render the task of reconstructing the painter's development difficult. For instance, of all the oil on canvas works acquired by Max Stern in May, only one was known until recently - the famous Expansion rayonnante, a black and white work from 1956, now in the collection of the Montreal Museum of Fine Arts (a gift of Dr. and Mrs. Stern in 1978). This is why the emergence of Ouvertures imprévues is so exciting. Obviously it precedes the advent of his black and white paintings, but more importantly, it shows how Borduas finally succeeded in integrating the New York-influenced watercolours that he had made two years previously. In New York, Borduas had been intrigued by Jackson Pollock's drip technique and had tried his hand at it in some of his watercolours of 1954. But nothing of that transpired in his oils of the period. It was only in Paris two years later, as our Ouvertures imprévues clearly shows, that he found a way to integrate, if not dripping itself, at least an equivalent of it by delicate traces of the painter's knife used on its edge here and there above the white, grey and red background. These traces of black are in fact more calligraphic, almost Japanese, than anything done by Pollock and show how Borduas succeeded in adapting his own vocabulary for what had fascinated him before. These traces of black were obviously added to a white and grey (with tiny spots of red) composition and tended to suggest a reading in depth. Perhaps this is what suggested the title of Unpredicted Openings. When these "openings" would begin to be painted in solid black instead of these subtle gradations of grey and brown, we would enter the black and white period for which Borduas is famous. Here we are just before this event in his development and it is because of this, I believe, that Ouvertures imprévues is so touching. It is a perfectly controlled composition, alternating vertical and horizontal strokes of white and grey that come from the four edges of the surface towards the centre, where most of the "openings" occur. This is Borduas at his best. In Paris he spoke of his admiration for Mondrian, and something of that regard is shown in this rigorous composition. But the spontaneity and the obvious speed and mastery of the handling of paint make us forget whatever influences may have played here, and we are delighted with the sheer beauty of the painting.
We thank François-Marc Gagnon of the Gail and Stephen A. Jarislowsky Institute of Studies in Canadian Art, Concordia University, for contributing the above essay.

S'est vendu pour: $152,100.00 CAN (prime d'achat incluse)
Estimation: 80,000 $ ~ 100,000 $ CAN