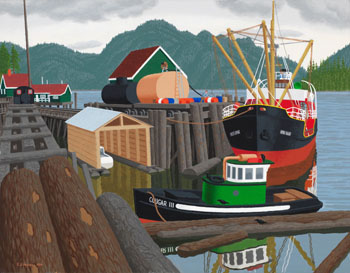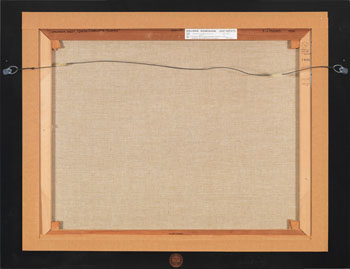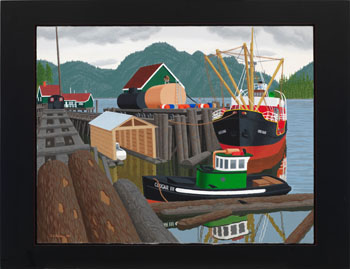 Lot # 040
Spring 2017 - 1st Session Live auction

Edward John (E.J.) Hughes
BCSFA CGP OC RCA 1913 - 2007 Canadian

Cumshewa Inlet, Queen Charlotte Islands
acrylic on canvas
signed and dated 1990 and on verso signed, titled, dated, inscribed "Acrylic" and stamped with the Dominion Gallery stamp
25 x 32 in 63.5 x 81.3cm

Provenance:
Dominion Gallery, Montreal
Acquired directly from the Artist by Jacques Barbeau, Vancouver

Literature:
Ian M. Thom, E.J. Hughes, Vancouver Art Gallery, 2002, page 197, reproduced page 202
Jacques Barbeau, A Journey with E.J. Hughes: One Collector's Odyssey, 2005, reproduced page 24
Jacques Barbeau, The E.J. Hughes Album: The Paintings, Volume 1, 1932 - 1991, 2011, reproduced page 86

Exhibited:
Vancouver Art Gallery, E.J. Hughes, 2003, traveling to the McMichael Canadian Art Collection, Kleinburg, and the Art Gallery of Greater Victoria, 2003 - 2004

By 1990, E.J. Hughes had a long history of sketching, and he sometimes returned to subjects that attracted him. On verso Hughes's handwritten inscription reveals, "This painting was produced from an old pencil sketch obtained in 1953 during my sketching trip up the coast of B.C. on an Imperial Oil tanker. In 1968, from a detail of the above pencil sketch, I produced an 18 x 24" oil painting entitled 'The Green Tugboat.' Sometimes it is a welcome change to paint from an old sketch like this as most of my recent sketches are of Vancouver Island." Regarding Cumshewa Inlet, Queen Charlotte Islands, Ian Thom wrote, "This work recalls the oils that Hughes produced in the 1950s and illustrates how important his initial colour notes are to his working process. Almost forty years after he visited Cumshewa Inlet, his use of colour is as vivid as his initial impressions." In this masterful composition, Hughes draws us into the heart of the scene through his use of foreshortening in the logs and ramp, where we linger over every fascinating nautical detail of the ships and their dock in this classic coastal harbour view.


Estimate:
$100,000 ~ $150,000 CAD
Sold for:
$229,250 CAD (including Buyer's Premium)

All prices are in Canadian Dollars.
Although great care has been taken to ensure the accuracy of the information posted, errors and omissions may occur. All bids are subject to our Terms and Conditions of Business.