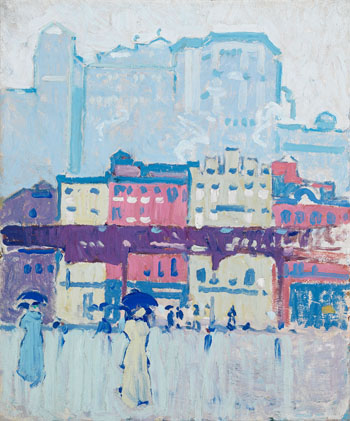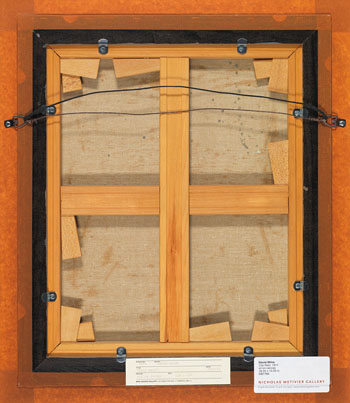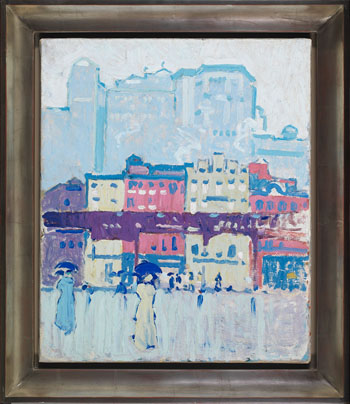 Lot # 110
Spring 2017 - 2nd Session Live auction

David Brown Milne
CGP CSGA CSPWC 1882 - 1953 Canadian

City Rain
oil on canvas 1911 ~ 1912
on verso titled on the gallery labels
18 1/4 x 15 1/4 in 46.4 x 38.7cm

Provenance:
Estate of the Artist
Mira Godard Gallery, Toronto
Private Collection, Canada
Nicholas Metivier Gallery, Toronto
Private Collection, Ontario

Literature:
David P. Silcox, Painting Place: The Life and Work of David B. Milne, 1996, page 34
David Milne Jr. and David P. Silcox, David B. Milne: Catalogue Raisonné of the Paintings, Volume 1: 1882 – 1928, 1998, reproduced page 67, catalogue #104.3

Exhibited:
Marlborough-Godard, Toronto, 1972, titled as City Rain, New York and dated circa 1911, catalogue #3
Mira Godard Gallery, Toronto, 1994, catalogue #2

That David Milne was one of the most accomplished artists of his generation is recognized internationally today. This acclaim is especially interesting to many Canadian art lovers, not least because Milne offers different paradigms of art making from those of his contemporaries and peers in Canada, such as Tom Thomson, the Group of Seven and Emily Carr. He was a Canadian who spent his formative years in the USA and who abjured nationalist definitions of landscape painting.
Born in Bruce County, in rural southwestern Ontario, when he was 21, Milne was ambitious enough to enroll at the Art Students League in New York City (1903 – 1905). There he came to know both American and European Impressionism, Post-Impressionism and Fauvism, movements that would inflect his own unique painting style. By circa 1910, Milne's work was exhibited regularly and noticed approvingly in the New York press. With early paintings such as City Rain, he made a reputation as one of the bright lights who brought a keenly modern sensibility to North America. Another measure of this early success was his participation in two of North America's most important exhibitions of avant-garde art in the early twentieth century: the Armory Show in 1913 (seen in New York, Boston and Chicago) and the Panama-Pacific International Exposition, held in San Francisco in 1915.
City Rain is a painting about cities, specifically the dense vibrancy of Lower Manhattan. It was a focus that Milne came to appreciate in part through the work of the American group The Eight, which included Robert Henri, Maurice Prendergast and William J. Glackens, and with whom he exhibited at the Montross Gallery. Milne was in New York until he joined the Canadian Army in 1917, and he came to know the metropolis through his career as a sign painter. David Silcox tells us in the Milne catalogue raisonné that City Rain has us looking north from Coenties Slip, the same viewpoint the artist took for the works Waterfront (in the collection of the National Gallery of Canada), Battery Park and 9th Avenue E1.
The site allows Milne to contrast the dynamic comings-and-goings of people in the relatively open foreground with vibrantly coloured mauve, pea green, pink and blue low-rise buildings in the middle ground and with the newer skyscrapers that dominate the upper part of the image. These buildings relegate the sky to a band at the top but are not oppressive because everything in this picture moves. People scurry across the slick and reflective street in the rain; smoke rising from nearby buildings snakes across and links us to the taller building's massive facades. Milne paints his forms so freely that we feel as if we, too, are moving along in this scene, perhaps slightly off balance, as we experience while watching films or news footage shot with a hand-held camera.
City Rain quintessentially displays two often-remarked qualities of Milne's work. The sophistication of this painting shows that he was a cosmopolitan artist who saw, absorbed and made his own a range of European avant-garde painting, from that of Paul Cézanne and Henri Matisse to that of The Eight. Secondly, as David Silcox argues and other Milne scholars claim, "Painting, for Milne, was a purely aesthetic activity, not concerned with social problems…It was not even a process of recording or describing an object or a scene with fidelity or truth. Rather, a painting was a charged world of its own." While undeniably accurate as a tendency, this "formal" reading of Milne's work can also be limiting, especially with regard to City Rain. Primarily a landscape painter before and after this important period in New York in the 1910s, Milne looked outwards to celebrate the urban in ways that continue to convey the city's experiential truth to us today.
We thank Mark Cheetham, Professor of Art History at the University of Toronto and author of Remembering Postmodernism: Trends in Canadian Art, 1970 – 1990, for contributing the above essay.


Estimate:
$275,000 ~ $325,000 CAD
Sold for:
$421,250 CAD (including Buyer's Premium)

All prices are in Canadian Dollars.
Although great care has been taken to ensure the accuracy of the information posted, errors and omissions may occur. All bids are subject to our Terms and Conditions of Business.