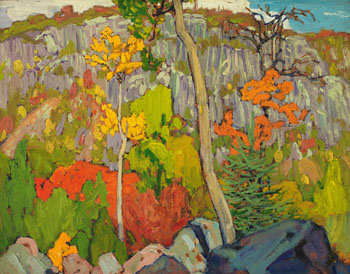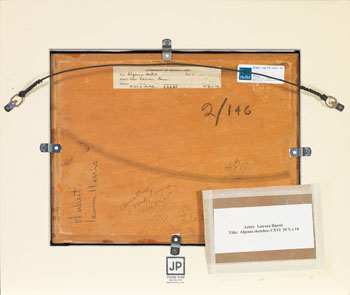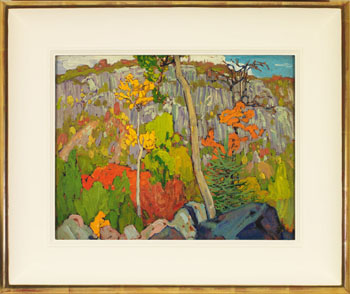 Lot # 119
Spring 2017 - 2nd Session Live auction

Lawren Stewart Harris
ALC BCSFA CGP FCA G7 OSA RPS TPG 1885 - 1970 Canadian

Algoma Sketch CXLVI
oil on board circa 1920
on verso signed, titled on the artist's label and inscribed in graphite "Hubert Lawren Harris" and variously and with the Doris Mills inventory #2/146
10 3/4 x 13 7/8 in 27.3 x 35.2cm

Provenance:
A wedding gift to the current owner's parents from their aunt and uncle, who were close friends of the Artist, in 1942
By descent through the family to the present Private Collection, Toronto

Literature:
Doris Mills, L.S. Harris Inventory, 1936, Algoma Sketches, Group 2, listed, catalogue #146, location noted as the Studio Building

Lawren Harris's work in Algoma consists of vigorous, colourful images that are often, as in the case of this work, expressions of pure joy. The riotous colour, the crisp, clean light, the feeling of lightness and the natural beauty that permeate this region were nature's gifts to an artist in need. Algoma was instrumental in Harris's recovery from his experiences in the First World War, which included the loss of his only brother and coincided with the death of Tom Thomson. Algoma's panoramic views overwhelmed Harris's grief and drew his emotional attention to the beauty he saw and felt compelled to express. He also invited other painters that he knew to join him, and repeated expeditions to Algoma, including those taken in the famous boxcar on the Algoma Central Railway, would occur from 1918 until 1921. On these trips, his plein air work was at its very best, and this brilliant sketch is among the finest. Harris's ability to select a defined scene from a vast panorama was innate. Here, a grey hillside or cliff marks the distance – perhaps the walls of a canyon – and large jutting rocks mark the near ground. A few trees, differing in type, stretch out above the undergrowth, each dressed in a different autumn colour. One conifer grows on the hillside sloping off to the right, its horizontal branches an artful contrast to the mostly vertical brushwork in the scene, while in the distance, cloud and a slice of sky expand the view.


Estimate:
$150,000 ~ $250,000 CAD
Sold for:
$349,250 CAD (including Buyer's Premium)

All prices are in Canadian Dollars.
Although great care has been taken to ensure the accuracy of the information posted, errors and omissions may occur. All bids are subject to our Terms and Conditions of Business.