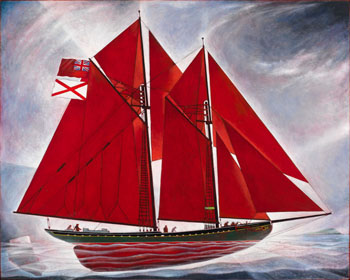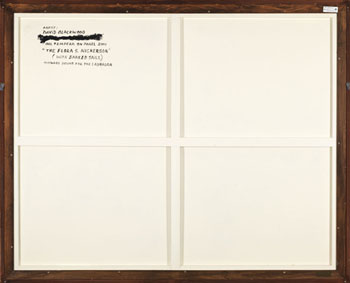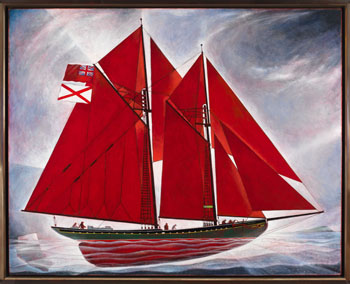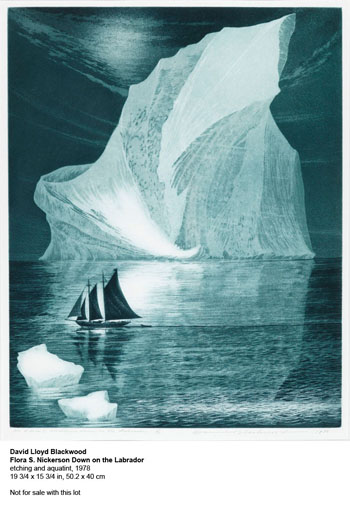 Lot # 008
Fall 2016 - 1st Session Live auction

David Lloyd Blackwood
CPE CSGA CSPWC OSA RCA 1941 - Canadian

"The Flora S. Nickerson" (with Barked Sails) Outward Bound for the Labrador
oil tempera on board
signed and dated 2001 and on verso signed, titled and dated
45 x 60 in 114.3 x 152.4cm

Provenance:
Abbozzo Gallery, Toronto
Private Collection, Toronto

Literature:
Katharine Lochnan, editor, Black Ice: David Blackwood, Prints of Newfoundland, Art Gallery of Ontario, 2011, pages 6 and 9, the 1978 etching Flora S. Nickerson Down on the Labrador reproduced plate 24, the 1982 etching The Flora S. Nickerson in the Labrador Sea reproduced plate 51 and the 1987 etching Outward Bound for the Labrador reproduced plate 54

In Wesleyville, Newfoundland, David Blackwood's father Edward was captain of the schooner Flora S. Nickerson, and David spent his childhood summers aboard, cod fishing off the Labrador coast. This ship has often appeared in his work, featured in refined etchings such as Flora S. Nickerson Down on the Labrador, The Flora S. Nickerson in the Labrador Sea and Outward Bound for the Labrador.
In his work, Blackwood has chronicled the life of Newfoundlanders and their relationship to the sea in striking images that have imprinted themselves indelibly on our consciousness. As Farley Mowat wrote, ships such as this "sallied out...to fling the primordial challenge back to those unyielding elementals—the roaring sea; the mad and bitter gales...the green, destroying ice." In this work, charging across the water under full sail, the Flora S. Nickerson is a stunning sight, with flags flying and its sails bright red from soaking in a traditional preservative made by boiling the bark of conifers. Around it swirl delicate mists and below, the ocean ripples and sparkles, its transparency revealing the hidden part of an iceberg, symbolic of the mystery and danger of the sea.


Estimate:
$60,000 ~ $80,000 CAD
Sold for:
$177,000 CAD (including Buyer's Premium)

All prices are in Canadian Dollars.
Although great care has been taken to ensure the accuracy of the information posted, errors and omissions may occur. All bids are subject to our Terms and Conditions of Business.