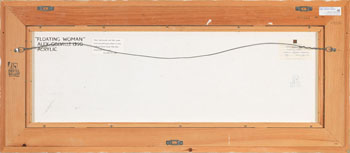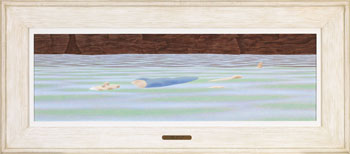 Lot # 244
Fall 2016 - 4th Session Live auction

Alexander Colville
PC CC 1920 - 2013 Canadian

Floating Woman
acrylic polymer emulsion on board
on verso signed, titled and dated 1990
11 1/4 x 34 3/4 in 28.6 x 88.3cm

Provenance:
Drabinsky Gallery, Toronto
Heffel Gallery Limited, Vancouver
Peter and Joanne Brown Collection, Vancouver, acquired from the above in 2001

Literature:
Philip Fry, Alex Colville: Paintings, Prints and Processes, 1983 - 1994, Montreal Museum of Fine Arts, 1994, page 43, reproduced page 45 and two drawings for this work reproduced pages 43 and 44, catalogue #5.02 and #5.03

Exhibited:
Montreal Museum of Fine Arts, Alex Colville: Paintings, Prints and Processes, 1983 - 1994, September 30, 1994 - January 15, 1995, catalogue #5

Floating Woman is striking in several respects. Its "landscape" format widens our sense of the woman's physical extension, her ease, and her oneness with the elements pictured here. There is a strong tonal contrast between the softly striated sandstone cliffs that we see in the background and the gentle light blues and greens of the water in which the woman swims. Alex Colville was at the height of his powers and international acclaim when he painted this work. We can see why in its details—despite its soft and relaxed feel, this is a remarkably precise image. For example, the ripples in the water nearer the shore mirror the strata of the cliff off which they rebound. The woman's left foot breaks the surface and marks the exact spot where the water of the foreground in which she bathes meets these small waves, defining for her a zone in which both she and the water appear to be relaxed. The otherwise barely visible flash of her white bathing cap is keyed by Colville—who always crafted his own frames—to the white of the frame's immediate border.
Philip Fry has written about the tight and complex geometry of this work, which we can see being worked out in its preparatory studies. He notes that Colville employed Le Corbusier's Modulor scale of proportions and the Fibonacci sequence to accomplish the difficult placement of the woman. She floats at an angle slightly away from us and our main point of reference, the white cap. All of this technical know-how is in the background, however, in the final painting; it is at the service of what Colville believed was an image of tranquility. "The woman floats calmly far out from a shadowed sandstone cliff," he reports in his usual taciturn way. Just as the woman is calm, absorbed, and not posing for the artist, so too Colville is confident in his abilities of observation and masterly execution. It is in images such as Floating Woman that we can fully appreciate why he was one of the most successful and widely admired artists in the history of Canadian art. His posthumous retrospective at the Art Gallery of Ontario and the National Gallery of Canada (2014 – 2015) witnessed the enduring popularity and integrity of his work.
An intriguing paradox in Colville's art that we see here is his tendency to focus on domestic events—quotidian activities that he believed were life's most important, if undramatic, moments—and to generalize them by referring here to "the woman" who floats. As everyone familiar with his work knows, his beloved wife Rhoda was his habitual model, as she is here. An entire section in the recent retrospective exhibition was devoted to images of her. In the context of tacit comparison with his many loving renditions of her, we know that this is a private scene, and we construe the woman as whole and at peace. Colville's skilful use of complex geometry combines with a gestalt effect in this painting. What we literally see is a face with a bathing cap on, a blue form that we read as a torso in a swimsuit, part of one hand above the water surface, a passage of leg, and the foot of the other leg. What we think is "Floating Woman," in calm repose.
We thank Mark Cheetham, Professor of Art History at the University of Toronto and author of Alex Colville: The Observer Observed, for contributing the above essay.


Estimate:
$300,000 ~ $500,000 CAD
Sold for:
$501,500 CAD (including Buyer's Premium)

All prices are in Canadian Dollars.
Although great care has been taken to ensure the accuracy of the information posted, errors and omissions may occur. All bids are subject to our Terms and Conditions of Business.