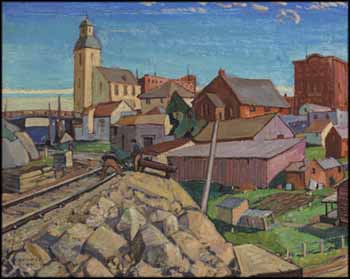 Lot # 133
Fine Canadian Art Live auction

Arthur Lismer
AAM CGP CSGA CSPWC G7 OSA RCA 1885 - 1969 Canadian

A Northern Town, Mattawa, Ontario
oil on canvas
signed and dated 1922 and on verso titled as Mattawa, Ontario and inscribed "Arthur Lismer III" and "OP2064001"
32 x 40 in 81.3 x 101.6cm

Provenance:
H.S. Southam, Ottawa
Sold sale of Important Canadian Art and Fine Jewellery, Sotheby's Canada, May 27, 1985, lot 794
An Important Corporate Collection, Vancouver

Literature:
Canadian Drawings by Members of the Group of Seven, Rous & Mann Ltd., 1925, a print of Lismer's drawing for this canvas titled as A Northern Town - Mattawa reproduced
John A.B. McLeish, September Gale: A Study of Arthur Lismer of the Group of Seven, 1955, titled as A Northern Town, Mattawa, listed page 203
Charles C. Hill, The Group of Seven: Art for a Nation, National Gallery of Canada, 1995, page 321, catalogue #80
Ross King, Defiant Spirits: The Modernist Revolution of the Group of Seven, 2010, page 181

Exhibited:
Royal Canadian Academy, 1923, catalogue #102
Art Gallery of Toronto, Group of Seven Exhibition of Paintings, January 9 - February 2, 1925, titled as A Northern Town
Art Gallery of Toronto, Arthur Lismer Paintings, 1913 - 1949, January - February 1950, titled as A Northern Town, catalogue #13

By the time the original members of the Group of Seven opened their fourth exhibition at the Art Gallery of Toronto (now the Art Gallery of Ontario) in January of 1925, Frank Johnston had resigned and severed his ties with them. The Group had not held a show together since 1922. Instead, they were promoting their work across Canada and internationally by participating in touring shows. An American tour of their work - the show Modern Canadian Paintings - was not well received, and Arthur Lismer, J.E.H. MacDonald and even the frugal A.Y. Jackson had taken on teaching positions in order to supplement their meagre incomes. The Group participated in the British Empire Exhibition at Wembley, England, in the spring of 1924, which in complete contrast to the United States proved a resounding critical success. Thus the 1925 Group show in Toronto came on the heels of success overseas and achieved a record visitation of 4,300, a substantial increase over the 2,805 that had attended their previous show. The 1925 show contained 51 canvases and a portfolio of reproductions of drawings, and debuted privately to an audience of about 400 people before opening to the public. In addition to the improved attendance, 16 print portfolios were sold, along with 12 drawings - 11 to the National Gallery of Canada - and a canvas.
Lismer exhibited two urban subjects in 1925. The first of these was called A Factory Town - North of England. It depicts the town of Mossley, Lancashire, where Lismer's sister lived and where he had visited the previous summer. It is now in the Heritage Collection of the Government of Nova Scotia in Halifax. The second canvas was A Northern Town, Mattawa, Ontario, herein consigned to Heffel from an important corporate collection where it has resided since 1985. In addition to being a rare canvas from the years when the Group were still showing together, A Northern Town, Mattawa, Ontario has an important exhibition history. Prior to the 1925 Group of Seven exhibition, it had been shown at the Royal Canadian Academy exhibition in 1923, and would later be shown in a 1950 retrospective exhibition of Lismer's work held at the Art Gallery of Toronto.
In 1925 this work along with A Factory Town, North of England, were singled out by reviewer Hector Charlesworth for comment. Charlesworth had been a vocal opponent of the Group's work as a whole and was often vitriolic when commenting on their work. He wrote, "In The Factory Town and A Northern Town an abundance of varicoloured detail is translated by Mr. Lismer into vivid synthesis and the light is that of nature." Indeed it is the light that gives A Northern Town, Mattawa, Ontario much of its charm. The irregular buildings of various shapes and sizes and types are unified by the light that envelops them all in an even, democratic glow, and because of this they form a harmonious backdrop to the piled boulders over which a siding of the train tracks runs. Lismer's colour scheme is sun-washed; the brilliant blue sky is a perfect foil for the colours of the town's brick and clapboard buildings. A small garden plot in a lush green yard adds a nice touch of humanity, and Lismer's perspective in the work, wherein we look out and up towards the town, adds a sense of quiet reverence to the scene. Further, the canvas is the subject for one of the drawings that was published as a photolithograph in the aforementioned portfolio of prints. Called Canadian Drawings by Members of the Group of Seven, it was produced in an edition of 100 by Rous & Mann Ltd. and was available for sale at the price of $12 each at the 1925 show.
This superb canvas depicts the village of Mattawa, which has several connections to the Group, as well as with Tom Thomson. In addition to being the oldest settlement in the Nipissing District and the site of a Hudson's Bay trading post established in 1830, it was an early sketching destination for Lawren Harris and MacDonald, who painted there in the spring of 1913. In 1915 Mattawa was Thomson's planned destination for a canoe trip that would begin at North Tea Lake and during which he paddled the almost 100 kilometres in between. Thomson invited Lismer "or any of the boys" to join him, but no one was able to get away from Toronto. It would take Lismer until 1922 - the year he executed this masterwork - to visit Mattawa; perhaps he thought of Thomson, who had drowned at Canoe Lake in the interim, while he was there.


Estimate:
$300,000 ~ $400,000 CAD
Sold for:
$324,500 CAD (including Buyer's Premium)

All prices are in Canadian Dollars.
Although great care has been taken to ensure the accuracy of the information posted, errors and omissions may occur. All bids are subject to our Terms and Conditions of Business.