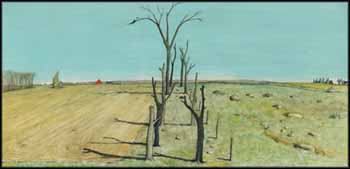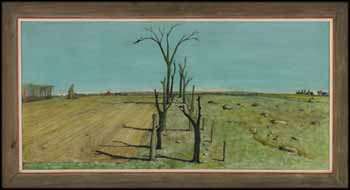 Lot # 060
Canadian Post~War & Contemporary Art Live auction

William Kurelek
ARCA OC OSA 1927 - 1977 Canadian

The Atheist
mixed media on board
signed and dated 1963 and on verso titled on the gallery label
23 1/4 x 48 in 59 x 121.9cm

Provenance:
Dr. W. Ellis, Ontario
The Isaacs Gallery Ltd., Toronto
Private Collection, Toronto
Sold sale of Canadian Post-War & Contemporary Art, Heffel Fine Art Auction House, November 25, 2010, lot 51
Private Collection, Toronto

Literature:
William Kurelek, Someone With Me: The Autobiography of William Kurelek, 1980, page 154
Joan Murray, Kurelek's Vision of Canada, The Robert McLaughlin Gallery, 1982, reproduced page 23

Exhibited:
The Robert McLaughlin Gallery, Oshawa, Kurelek's Vision of Canada, June 14 - August 14, 1983, traveling exhibition, catalogue #4

In 1952 William Kurelek checked himself into a psychiatric hospital near London, England. He was in his mid-twenties, painfully lonely and chronically depressed. He had been raised in rural Manitoba, and his life so far had been one of hard work and strict religious observance, overseen by a stern father. There was no affection, no physical contact, and certainly no fatherly encouragement for the aspirations of his artistically inclined son. Kurelek suffered terribly as a result and turned his back on his own religion, becoming an ardent atheist. He persisted with his art despite the unhappiness that this caused in his family relations; he felt he was a constant disappointment to his parents and siblings. He had traveled to England in search of two things – good art training and an improvement in his mental health. While in the hospital, Kurelek discovered that a young Catholic nurse was praying for him, which caused him to reconsider ideas of faith and belief. Over the period of his convalescence, he explored the ghosts of his childhood in his paintings. He also explored Catholicism and finally embraced it in 1957, converting fully. This painting, pointedly titled The Atheist, is an extremely interesting window into what must have been the most challenging aspect of Kurelek's life: his religious choices.
In his autobiography, written shortly before his death, Kurelek compares his Orthodox father to the person in the parable of the man who climbs a tree in order to reach a great height, and then cuts off the limb that he is sitting on. The painting is multi-layered, referring also to a parable from the life of Jesus, where Jesus admonishes those who do not forgive by likening them to a man who does the same thing: cuts off the branch upon which he sits. Kurelek is referring to many things in this complex painting. The man high in the tree, alone in the prairie, symbolizes his father's inability to see how his actions affected both himself and those around him. The man also stands for the terrible bitterness towards God that Kurelek saw in his father while he was growing up. It was not until late in his life that Kurelek was able to forgive his father. And finally, the self-defeating action of the man relates to how Kurelek felt about his earlier choice to turn his back on his childhood religion and become an atheist.
Kurelek had made a difficult journey from Orthodoxy to atheism, through mental despair that ultimately led to finding religious grace and devout Catholicism. The man in the painting portrays all of this. He climbs tree after tree, reaching a high point, then saws off the branch and falls. Clearly the act has been repeated many times, and will be a time or two more, until there are no more branches, until there is only forgiveness and understanding. The landscape in which the once mature trees stand is barren and stark, and speaks of hard work. The distant white church, to which the man has his back, is barely visible on the far horizon and is of no particular denomination, a symbol of religious faith and how it shaped both situations, for good and for bad.
This work is in the original frame made by Kurelek.


Estimate:
$70,000 ~ $90,000 CAD
Sold for:
$188,800 CAD (including Buyer's Premium)

All prices are in Canadian Dollars.
Although great care has been taken to ensure the accuracy of the information posted, errors and omissions may occur. All bids are subject to our Terms and Conditions of Business.