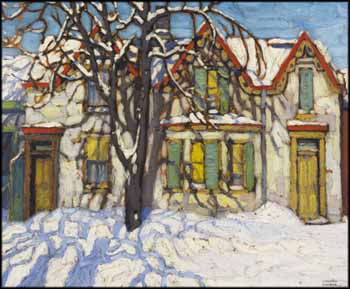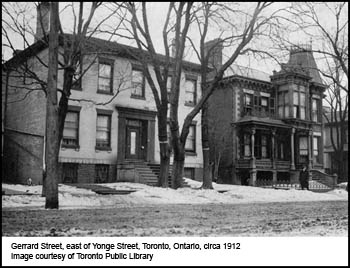 Lot # 145
Fine Canadian Art Live auction

Lawren Stewart Harris
ALC BCSFA CGP FCA G7 OSA RPS TPG 1885 - 1970 Canadian

Houses on Gerrard Street
oil on board circa 1918
signed and on verso inscribed "1478" in graphite
10 5/8 x 13 in 27 x 33cm

Provenance:
Collection of the Artist, Toronto
Acquired from the above by Guy V. Mitchell, Toronto
By descent to the present Private Collection, Ontario and British Columbia

Literature:
Augustus Bridle, The Story of the Club, The Arts & Letters Club, 1945, the painting Court Lane depicting the members of the Club reproduced, in which Guy V. Mitchell is included
Jeremy Adamson, Lawren Harris: Urban Scenes and Wilderness Landscapes, 1906 - 1930, Art Gallery of Ontario, 1978, page 99

Lawren Harris's urban streetscape paintings range from depictions of rundown, dilapidated homes in the working-class neighbourhoods of Toronto to houses such as this one on Gerrard Street, a comfortable, more affluent old house set under the dangling limbs of a chestnut tree. Harris painted many of the homes and buildings along Gerrard Street, and found direct parallels between the people of these neighbourhoods and their dwellings. It is interesting to note that this work was acquired directly from Harris by Guy V. Mitchell, who knew Harris through their mutual membership in the Arts and Letters Club, which was located just steps from Gerrard Street. Paintings such as this and lot 103 were acquired during the years he was a member of the Club and working as a buyer and head decorator at the Robert Simpson Company Limited in Toronto.
Harris's depictions of Toronto streets are like portraits. Sometimes poignant, sometimes regal, sometimes sad, each of his buildings can be seen as a sitter whose character, carriage and personality are depicted with exacting skill under Harris's brush. Many of Harris's early house paintings from before 1920 - a group from which this work likely dates - became the subjects for later urban scenes, wherein the street was not so pleasant, the home not as well-kept. This work reveals Harris's habit of painting directly from a subject - city streets in this case - and then exploring the subject further in terms of its greater meaning. With each additional rendering, he looked past pattern, colour and shape to explore metaphor and symbol, communicating what he saw as something greater through atmosphere and feeling. Harris was an insightful man who examined his own work critically, often developing several versions of a scene in pursuit of a particular effect. Thus with each work that comes into the art historical record, we are able to see a fuller picture of this complex painter. Over time, the paint on his houses is peeling; the streets have grown harsher and have lost their tranquility. Windows are boarded up and shutters fallen askew as he explores character and mood in the fences, gardens and rooftops.
As a group, Harris's house paintings from this period are considered, as Jeremy Adamson wrote, "among his finest works." This particular work is a beautifully decorative scene and relates to other well-known house paintings such as Toronto Houses from 1919, in the collection of the National Gallery of Canada, and Red House and Yellow Sleigh painted that same year, in the collection of the Art Gallery of Ontario. All these masterworks are painted with a rich, brilliant palette dominated by the various whites of snow and depict a stately home in winter. In our work, the house itself is also white, adding to the dazzling effect of the palette. The scene is lit by sunshine, which creates a lacy pattern of blue shadows against the snow and grey shadows against the white house; these shadows weave together and run all over the scene in a delicate tracery. The choice of a white house against the white snow is especially effective, and it foreshadows the brilliance with which Harris would employ white in his paintings of the Rockies and the Arctic that were yet to come. The linear pattern of red trim on the home, together with the rectangles of pale blue-green shutters and cheery yellow curtains inside the home, contrast with the weave and dance of the overlaid shadows and result in a feeling of utter loveliness. Houses on Gerrard Street is a highly effective scene, sun-filled and possessing an easy presence.


Estimate:
$350,000 ~ $450,000 CAD
Sold for:
$1,121,000 CAD (including Buyer's Premium)

All prices are in Canadian Dollars.
Although great care has been taken to ensure the accuracy of the information posted, errors and omissions may occur. All bids are subject to our Terms and Conditions of Business.