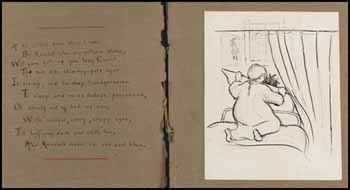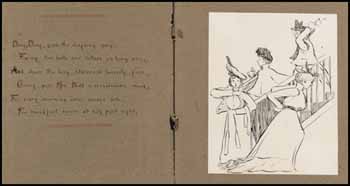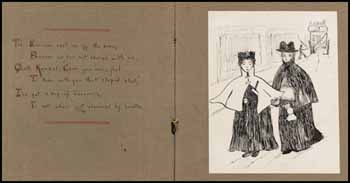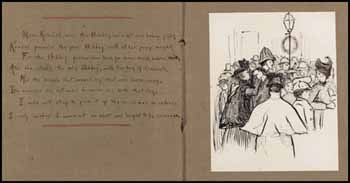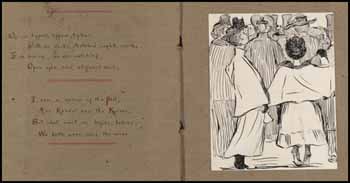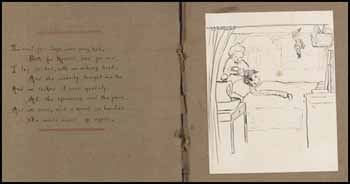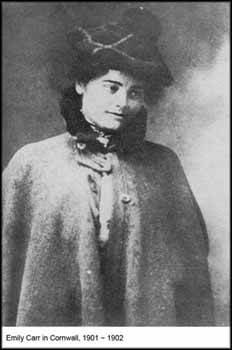 Lot # 112
Spring 2014 - 2nd Session Live auction

Emily Carr
BCSFA CGP 1871 - 1945 Canadian

The Queen's Funeral, London
book with seven hand-illustrated drawings 1901
titled
11 1/2 x 19 [full leaf] in 29.2 x 48.3cm

Provenance:
Mr. and Mrs. William H. Clarke, Toronto
By descent to the present Private Collection, Toronto

Literature:
Emily Carr, Growing Pains, 1946, the drawing of Carr and Kendal at the back of the crowd reproduced page 181

Emily Carr was a dedicated journal keeper. Throughout her life, she committed her thoughts, dreams, frustrations and aspirations to paper with self-effacing humour and cutting wit. In 1907 she illustrated a prose journal depicting a trip she and her sister Alice took to Alaska. A similar book, entitled Sister and I, includes a chronicle of her 1910 trip to London with Alice. She called these "funny books", and funny they are indeed. This book depicts a failed attempt to view the funeral procession of Queen Victoria, who died in January of 1901 while Carr was a student at the Westminster School of Art in London. Carr had befriended a roommate from her boarding house named Kendal, and they decided to join the crowds in an attempt to catch a glimpse of the regal procession. The story unfolds in clever hilarity; the illustrations are full of character and personality, and the text is pure delight.
This book consists of seven drawings; each drawing measures 8 x 6 1/3 inches (the page measures 11 1/2 x 9 1/2 inches) and is accompanied by a block of text written in ink.
A transcript of Carr's original text:
At six o'clock from sleep I wake
By Kendal who my pillows shake,
Will you get up you lazy Carr?
The sun o'er chimney-pots afar
Is rising, and tis deep transgression
To sleep and miss todays procession,
Oh slowly out of bed we rise,
With woeful, weary, sleepy eyes,
Tis half-way dark and chilly too,
And Kendal's nose is red and blue.
Dong, Dong, does the deafning gong,
Fixing ties belts and collars we hurry along,
And down the long staircase hurridly flock,
Giving poor Mrs. Dodd a considerable shock,
For every morning we're always late,
For breakfast served at half past eight.
The Buss-man cast us off the buss,
Because we had not change with us,
Quoth Kendal, "Carr you are a fool
To take with you that stupid stool,"
"I've got a bag of Caramels,
To eat when not observed by swells."
Saith Kendal, "Won't you Bobby Please
Shew us a spot where we can squeeze?"
I stood behind and hid my stool
Because you know it was the rule,
No chairs or stools should be allowed,
To persons standing in the crowd.
Now Kendal and the Bobbey had a hot and heavy fight,
Kendall pounded the poor Bobbey with her puny might,
For the Bobbey pushed her back for some much belated swells,
And she struck the solid Bobbey, with her bag of Caramels.
Mid the scuffle that ensued, my stool was borne away,
Its services did not avail to raise my heith that day,
I could not stop to pick it up the crowd was so intense
I only wished I were'nt so short and longed to be immense.
On our tippest, tippest, tiptoes,
With our necks stretched nigh to crack,
It is coming, we are watching,
Open eyes and stiffened back.
I saw a corner of the pall,
And Kendal saw the Kaiser,
But what went on before, behind,
We both were none the wiser.
The next few days were very bad,
Both for Kendal and for me,
I lay in bed, with an aching head.
And she wearily brought me tea
And we talked it over gravely,
All the squeezing and the pain
And we said, mid a crowd in London
We would never go again.


Estimate:
$10,000 ~ $15,000 CAD
Sold for:
$29,500 CAD (including Buyer's Premium)

All prices are in Canadian Dollars.
Although great care has been taken to ensure the accuracy of the information posted, errors and omissions may occur. All bids are subject to our Terms and Conditions of Business.