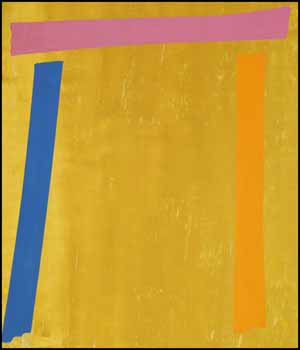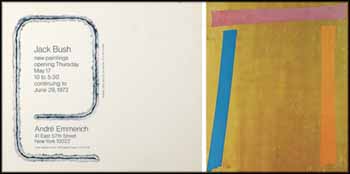 Lot # 037
Spring 2014 - 1st Session Live auction

Jack Hamilton Bush
ARCA CGP CSGA CSPWC OSA P11 1909 - 1977 Canadian

Temple
acrylic polymer emulsion on canvas
on verso signed, titled, dated November 1972, inscribed "Toronto" and "acrylic polymer W.B." and stamped with the André Emmerich Gallery stamp
76 x 64 in 193 x 162.5cm

Provenance:
André Emmerich Gallery, New York, 1973
Private Collection, Montreal

Literature:
Hilton Kramer, "Art Opener in Boston: Jack Bush", The New York Times, February 19, 1972, section C, page 26
Mary Joan Waid c/o André Emmerich Gallery to Jack Bush, June 29, 1973, André Emmerich papers, Archives of American Art, box 69, file 29
Jack Bush: New Paintings, André Emmerich Gallery, 1973, reproduced on the invitation card and in the catalogue, unpaginated
Robert Fulford, "Art on the Edge of Empire," ARTnews, 73, September 1974, reproduced page 23

Exhibited:
André Emmerich Gallery, New York, Jack Bush: New Paintings, New York, May 17 - June 29, 1973

The year 1972 was a great one for Jack Bush. On February 17, 1972, a solo show of his paintings opened at the Boston Museum of Fine Arts and was the inaugural exhibition for the new contemporary gallery. In reviewing the exhibition, Hilton Kramer for the New York Times noted, "Bush is surely a painter of real distinction, and in mounting the first United States museum exhibition of his work, Boston has scored something of a coup."
Bush had found his stride, and the works that he produced from 1972 until his death in 1977 stand out with bold confidence and the kind of ease that only a mature artist can achieve. From May 17 through June 29, 1973, Bush's long-time dealer in New York, André Emmerich, hosted a solo exhibition entitled Jack Bush: New Paintings. Temple (1972) was selected as the title piece for the show and was featured on the invitation to the exhibition. On the last day of the show, the registrar for the André Emmerich Gallery wrote to Bush to say, "Congratulations on such a successful show!" The registrar reported that ten paintings had sold to private collectors and that the gallery proposed to buy another five from the artist. Temple was one of only two paintings in the exhibition to sell to Canadian collectors. Seven of the other paintings sold to United States-based collectors, and one painting sold to a British collector.
Bush was enjoying the full bloom of his career and his appeal was wide. He painted Temple in November of 1972. It is simple and powerful, with three striking bars in blue, pink and orange against a sunny rolled-on ground with only very subtle variations in the range of orange, yellow and cream. The next month, he began to paint Temple 2, which he did not complete until March 1973. Temple 2 expanded on the audaciously pared-down Temple by adding eight bars of colour to the underside of a roof-like bar that rests at the top of the canvas. With two canvases bearing the name Temple, and each displaying a sense of architecture with a roof and vertical supports, there is no doubt that the artist's title was not just one of convenience or coincidence. No matter how abstract the work is, a sense of sacred place is evoked.
In fact, just before Bush began to paint primarily in the abstract, it was religious subjects that he grappled with in his representational art. Bush was raised High Anglican, and he in turn raised his own family to abide by the same faith. In 1947, the same year that Bush's psychiatrist recommended that he start to paint in an abstract manner, Wassily Kandinsky's treatise Concerning the Spiritual in Art was translated to English by Wittenborn, Schultz, Inc., and authorized by Mme Kandinsky. Kandinsky was born in Moscow in 1866 and has long been considered one of the most important pioneers of abstract painting. For Bush, painting spiritual subjects in the late 1940s and early 1950s helped him to bridge the gap between painting what was manifest in the world and what could only be felt in spirit. By the 1970s, the blank canvas in the studio was his temple.
We thank Dr. Sarah Stanners for contributing the above essay. Stanners is an independent art historian currently directing the Jack Bush catalogue raisonné project. She is also a guest curator with the National Gallery of Canada, where she is co-curating a major Bush retrospective exhibition with the gallery's director, Marc Mayer, which is scheduled to be on view from October 31, 2014, to January 15, 2015. Stanners regularly teaches Canadian art history at the university level and is now affiliated with the Department of Art at the University of Toronto.
Temple will be included in the forthcoming Jack Bush Paintings: A Catalogue Raisonné. For more information on this project, or to submit details of a painting, please go to www.jackbush.org
An invitation card for the 1973 exhibition at André Emmerich Gallery featuring this work accompanies this lot.


Estimate:
$125,000 ~ $175,000 CAD
Sold for:
$442,500 CAD (including Buyer's Premium)

All prices are in Canadian Dollars.
Although great care has been taken to ensure the accuracy of the information posted, errors and omissions may occur. All bids are subject to our Terms and Conditions of Business.