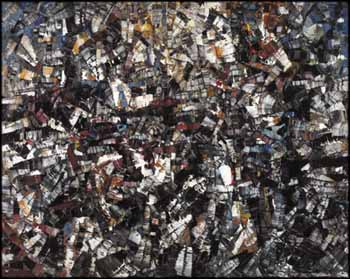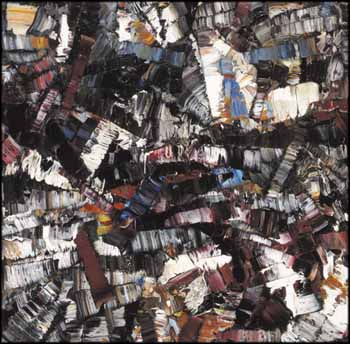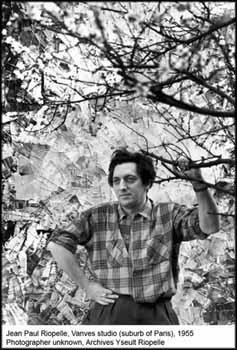 Lot # 019
Spring 2014 - 1st Session Live auction

Jean Paul Riopelle
AUTO CAS OC QMG RCA SCA 1923 - 2002 Canadian

Pleine saison
oil on canvas
signed and dated 1954 and on verso titled on a label
51 1/8 x 63 3/4 in 129.8 x 161.9cm

Provenance:
Galerie Jean Fournier, Paris
Private Collection, Montreal

Literature:
Pierre Schneider, Jean Paul Riopelle, Musée d'Art et d'Industrie de Saint-Étienne, 1980, reproduced page 19
Gilbert Érouart, Riopelle in Conversation, translator Donald Winkler, 1995, page 79
Yseult Riopelle, Jean Paul Riopelle Catalogue Raisonné, Volume II, 1954 - 1959, 2004, reproduced page 190, catalogue #1954.089H.1954

Exhibited:
Musée d'Art et d'Industrie de Saint-Étienne, France, Jean Paul Riopelle, 1980, catalogue #6
Musée des beaux-arts de Nancy, France, Riopelle à Nancy, December 8, 1980 - February 5, 1981

The most internationally acclaimed Canadian artist of his generation, Jean Paul Riopelle was a central figure in Quebec and Canada by the time he moved to France in 1947. A pupil of Paul-Émile Borduas and party to the manifesto Refus global in 1948, he had a total commitment to abstract painting as a vehicle that gave access to and vividly recorded the profundities of unconscious creativity. Riopelle extended his early interest in Surrealism when he arrived in France; André Breton and Marcel Duchamp included him in the landmark sixth International Exhibition of Surrealism at the Galerie Maeght in Paris in 1947 (Riopelle was the only Canadian). Access to the creativity of the unconscious remained important for Riopelle, but his signature work moved away from the look of abstract Surrealism.
Even in Riopelle's long and distinguished career, it was the 1950s, when Pleine saison was painted, that were central and made him one of the best known and most admired painters in Europe, as well as securing him gallery representation in New York with the prominent Pierre Matisse Gallery. Riopelle's work from this defining period was central to the Lyrical Abstraction movement developing in France in the 1950s. His wide recognition included his presence at the Bienal de São Paulo in 1951 and 1955, as well as the Venice Biennale in 1954 and 1962. It is not difficult to understand this acclaim - it was in 1954 that he began the large "mosaic" canvases such as Pleine saison, paintings that for many define his entire oeuvre.
Pleine saison is a tour-de-force of technique and painterly insight. The large surface is almost unimaginably dynamic. Applied dramatically with a palette knife, skeins of paint resolve to kinetic, fan-like forms. Forms and hues overlap, meld with and abut one another. While the surface displays stained-glass window-like flashes of red, yellow, orange, blue and green, its robust structure is largely controlled by gestures in black and white. This choice means that the most extreme contrasts in tone form what we might think of as the skeleton of the work. Wedges of white paint dominate in the centre third of the surface because they often stand in marked contrast to black forms. While Riopelle works black and white oils into one another throughout, he does so less often in the physical centre of his canvas. This emphasis on white gives the whole a temporary focus and allows us to enjoy the constant mutation of colour from one side of the work to the other. On the right, for example, pure white gives way to greater admixtures of black. Here the effect is of a quieter and spatially receding zone dominated by grey.
It is often claimed that Riopelle embraced risk with this, his signature technique. What might this mean? It is a heroic term when applied to his aesthetic, but it is borne out in Pleine saison. Riopelle could not have planned the final appearance of this work, yet he and others of the same mind found the contemporary emphasis on the "automatic", totally unconscious nature of such expression to be wide of the mark too. Whether minute or broad, every move of the knife, every application of colour was purposeful, yet guided by the unconscious. Such decisions required extraordinary skill and experience, but they happened far too quickly to be conscious. For Riopelle, the risk of ruining the composition was controlled: "For example, I never begin a painting without having ready to hand all the colours I need," he stated. He planned carefully so that he could paint freely, often working for up to 20 hours straight to achieve the breathtaking effects we see in a work such as Pleine saison.
We thank Mark Cheetham, Professor of Art History at the University of Toronto, for contributing the above essay.


Estimate:
$400,000 ~ $600,000 CAD
Sold for:
$1,298,000 CAD (including Buyer's Premium)

All prices are in Canadian Dollars.
Although great care has been taken to ensure the accuracy of the information posted, errors and omissions may occur. All bids are subject to our Terms and Conditions of Business.