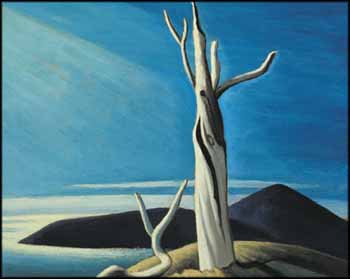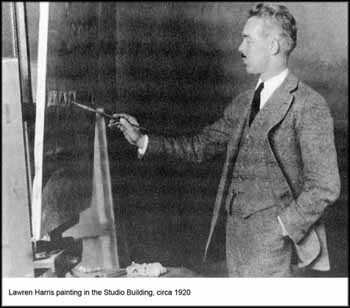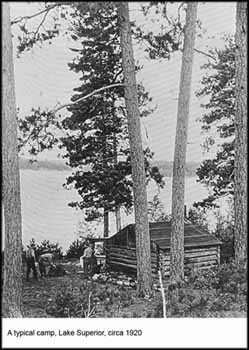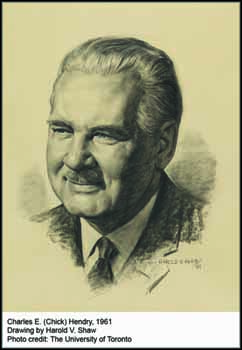 Lot # 146
Spring 2014 - 2nd Session Live auction

Lawren Stewart Harris
ALC BCSFA CGP FCA G7 OSA RPS TPG 1885 - 1970 Canadian

Lake Superior Sketch LXI
oil on board circa 1926 ~ 1928
on verso signed, titled on a label and inscribed with the Doris Mills inventory #4/61 and "#1680"
12 x 15 in 30.5 x 38.1cm

Provenance:
Estate of Charles E. (Chick) Hendry, Dean of the University of Toronto School of Social Work
By descent to the present Private Collection, United Kingdom and Canada

Literature:
Doris Mills, L.S. Harris Inventory, 1936, listed as Group 4 (4/61), Lake Superior Sketches, location noted as the Studio Building, a drawing of this work illustrated by Hans Jensen reproduced page 12
Lawren Harris, "The Group of Seven in Canadian History," Canadian Historical Association, Toronto, 1948, page 31
Jeremy Adamson, Lawren S. Harris: Urban Scenes and Wilderness Landscapes, 1906 - 1930, Art Gallery of Ontario, 1978, a similar oil sketch entitled The Old Tree Stump, Lake Superior reproduced page 156, and the 1926 canvas for the oil sketch North Shore, Lake Superior, collection of the National Gallery of Canada, reproduced page 157
Marylin J. McKay, Picturing the Land: Narrating Territories in Canadian Landscape Art, 1500 - 1950, 2011, reproduced page 178

Exhibited:
Art Gallery of Nova Scotia, Nova Scotia Collects, 1989
Art Gallery of Nova Scotia, extended loan

Lawren Harris began sketching out-of-doors in the early years of the twentieth century. His belief in the significance of the Canadian landscape as subject matter for painters was enhanced in 1913, when he and J.E.H. MacDonald traveled to Buffalo to view an exhibition of contemporary Scandinavian art being held at the Albright Art Gallery (now the Albright-Knox Art Gallery). As Harris later wrote of the work of artists such as Gustaf Fjaestad and Harald Sohlberg, "Here were paintings of northern lands created in the spirit of those lands and through the hearts and minds of those who knew and loved them. Here was an art bold, vigorous and uncompromising, embodying first hand experience of the great North. As a result of that experience our enthusiasm increased, and our conviction was reinforced."
Unfortunately, the exploration of the landscape that was foreseen following Harris and MacDonald's visit to Buffalo was delayed by the onset of World War I. However, beginning in 1918, it was in this spirit that Harris and his fellow painters explored the landscape of the Algoma region of Ontario. The success of these early sketching trips encouraged Harris and his colleagues to explore further. In the fall of 1921, Harris, A.Y. Jackson and Arthur Lismer made their first trip to the north shore of Lake Superior. For Harris, this landscape was a revelation. The vastness of Lake Superior itself and the rugged landscape surrounding it, which had often been ravaged by forest fires, provided Harris with landscape subjects that accorded with his own spiritual journey. Harris had been introduced to theosophical ideas as early as 1905 and, as he became more involved in Theosophy, he looked for ways to express the spiritual search inherent in theosophical thought in his work.
The Lake Superior landscape offered simplicity of form and grandeur of scale, and it allowed Harris to use a relatively limited but effective palette of cool, more spiritual colours – blues, greys, blacks and browns enlivened by whites and yellows. The very starkness of the landscape seen in a work such as Lake Superior Sketch LXI was of enormous importance to Harris. He was interested in a remote, almost chilly landscape that would encourage the viewer to look beyond the quotidian to higher spiritual values. The transformation of this silvered, dead tree trunk into a symbol of psychological and spiritual searching is accomplished by the elimination of detail in favour of grand, expansive vistas which allow the mind and spirit free rein. Harris was not interested in making a precise record of the topography of the region; rather he sought to convey to the viewer his own profound reaction to this landscape. The fact that Harris returned to Lake Superior every year from 1921 to 1928 demonstrates how powerfully he was drawn to this region for his subject matter.
Lake Superior Sketch LXI is a compelling example of Harris's vision as a painter. The landscape is not inviting, indeed it might be described as forbidding, but it is unforgettable. The tree trunk that dominates the image is enveloped in an intense light, which is clearly beyond the light of the sun. The somewhat unworldly glow that seems to emanate from the trunk, combined with the fact that the trunk reaches and touches the top of the image, suggests both spiritual yearning and a purer nature. This painting is Harris embodying his "first hand experience of the great North." This North was, for Harris, a realm not so much of water, wood, earth and rock, but more of spirit, energy and light. This is one of the reasons why the title of this work is so generic. The landscape itself, magnificent as it is, was for Harris only the beginning. It forms the basis of an image that Harris hoped would allow the mind and spirit to travel upward and outward into the greater universe.
Collector Charles E. (Chick) Hendry (1903 - 1979) was an internationally recognized scholar and human rights advocate who served for many years as the dean of the University of Toronto School of Social Work. Hendry was also known for his contribution to youth work. He became the first program director at Taylor Statten's camps at Canoe Lake in Algonquin Park, where he met and befriended several members of the Group of Seven and began to build his own collection of iconic Canadian art. Family lore holds that Lawren Harris gave this Lake Superior sketch to Hendry out of friendship. However, Hendry also had close relationships with the Dominion Gallery in Montreal and Laing Galleries in Toronto, from which he purchased other Group paintings. Although Hendry's diaries talk about his friendships with Harris, Lismer and Jackson, they contain no specific reference to a gift. The painting hung in Hendry's apartment in Deer Park, Toronto, until his passing and then remained within the collection of the family.


Estimate:
$500,000 ~ $700,000 CAD
Sold for:
$973,500 CAD (including Buyer's Premium)

All prices are in Canadian Dollars.
Although great care has been taken to ensure the accuracy of the information posted, errors and omissions may occur. All bids are subject to our Terms and Conditions of Business.