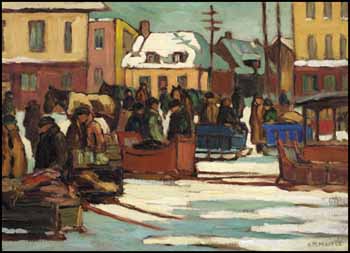 Lot # 116
Fall 2013 - 2nd Session Live auction

Kathleen Moir Morris
AAM ARCA BHG 1893 - 1986 Canadian

Marché Saint-Roch, Quebec
oil on canvas
signed and on verso titled on a label and dated circa 1925 on an exhibition label
18 1/8 x 24 1/8 in 46 x 61.3cm

Provenance:
Private Collection, Montreal

Literature:
Evelyn Walters, The Women of Beaver Hall: Canadian Modernist Painters, 2005, page 79

Exhibited:
Galerie Walter Klinkhoff Inc., Montreal, Kathleen Morris Loan Exhibition, June 1976, catalogue #23
Galerie Walter Klinkhoff Inc., Montreal, Kathleen Morris, Retrospective Exhibition, September 2003, catalogue #26

In 1962, when the work of Kathleen Morris was shown at the Montreal Arts Club, reviewer Dorothy Pfeiffer commented, "Her solidly composed souvenirs of Old Montreal and its environs should be collectors' treasures. Particularly remarkable is the woman painter's sense of joie de vivre; her clever use of dabs and dashes of brilliant orange-red livens every canvas...Such painting brings peace to the soul. It is humane, it is technically authoritative, it is the personal expression of joy of life and of tangible emotion by a gifted, forthright, fearless artist." Morris studied with William Brymner and took summer painting classes with Maurice Cullen, who shared her interest in the work of James Wilson Morrice. Morrice was also interested in Morris, and purchased a work of hers from Watson Galleries in Montreal. Morris lived in Ottawa for a time, not far from the Byward Market, where she frequently went to sketch, painting vivid scenes of the activities there such as the striking oil Byward Market, Ottawa, sold by Heffel in spring of 2013.
She also painted in such locations as Berthierville, the Laurentians and Arnprior, Ontario, where her family owned a cottage. In the winter she took trips to Quebec City, where the old buildings, horses and carts, and streets filled with people engaged in the commerce of daily life appealed to her painter's eye. She found the contrasts of various colours against the whites of snow visually dazzling, and thus she explored winter scenes such as Marché Saint-Roch, Quebec frequently. She painted out-of-doors, taking a sleigh or a carriage to an area where she could work for extended periods from the privacy and shelter it provided. Morris was born into a wealthy family and had certain advantages as a result, but she was also born with cerebral palsy and thus had challenges to overcome. Her observations of people are keen, as in this market scene in Quebec City, where she depicts the vendors in winter, their collars turned up and their hands in their pockets. They are using their sleighs as display tables to show off their wares; blankets can be seen in one, jars of foodstuffs, perhaps, in another. The boldly coloured sleighs are set at different angles, adding interest and a sense of rhythmic movement to the work. The horses have been removed from harness and stand in the background, where they wait for the market day to end, blanketed against the cold. There is a lively sense of patterning in this work, such as in the sleigh poles lying in the snow and ice of the foreground, forming lines that are repeated in the architecture of the city. The windows on the buildings echo the patterning and shapes of the sides of the sleighs, and the people, although varying in height, girth and posture, are painted as being similar to one another, without distinct features. There is a feeling of a stage set to Morris's works, as if a charming moment in history is being artfully arranged for us so as to be captured at its very best advantage. Morris's works display the positive elements of both sentimentality and romantic nostalgia, with an additional layer of working-class sincerity that offers enduring human appeal.
There will be an exhibition of Beaver Hall artists, including the work of Morris, at the Montreal Museum of Fine Arts in the fall of 2015 entitled Le Groupe de Beaver Hall : Une modernité des années vingt / Beaver Hall Group: 1920s Modernity.


Estimate:
$150,000 ~ $250,000 CAD
Sold for:
$157,950 CAD (including Buyer's Premium)

All prices are in Canadian Dollars.
Although great care has been taken to ensure the accuracy of the information posted, errors and omissions may occur. All bids are subject to our Terms and Conditions of Business.