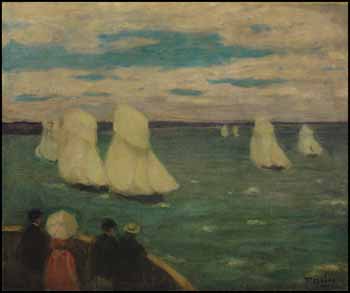 Lot # 123
Fall 2011 - 2nd Session Live auction

James Wilson Morrice
CAC RCA 1865 - 1924 Canadian

Régates à Saint-Malo
oil on canvas circa 1904 ~ 1905
signed
20 x 24 1/4 in 50.8 x 61.6cm

Provenance:
André Schoeller, Paris, before 1924
W. Scott & Sons, Montreal
Fraser Bros., sale of works from W. Scott & Sons, Montreal, April 9, 1938, titled as Regatta at Cancale, lot #280
Estate of F.R. Heaton
Watson Art Galleries, Montreal
Collection of Mr. François Dupré, February 20, 1947

Literature:
"Show of Morrice Paintings on View", The Gazette, Montreal, April 6, 1932, mentioned in a list of works for the W. Scott & Sons exhibition
Donald W. Buchanan, James Wilson Morrice, A Biography, 1936, titled as The Regatta at Cancale (dimensions listed are incorrect), listed page 161
Reynald, "Le Canada d'hier et d'aujourd'hui", La Presse, Montreal, May 23, 1936, review of W. Scott & Sons exhibition
John Lyman, Saturday Night, Toronto, March 6, 1937, reproduced page 10
Robert Ayre, "A Distinguished Exhibition Affirms the Genius of James Wilson Morrice", The Gazette, Montreal, February 27, 1937, listed
"Works by Morrice Gain High Prices", The Gazette, Montreal, April 11, 1938, re: sale of W. Scott & Sons works at Fraser Bros. and sale of Régates à Saint-Malo for $1,200
William R. Watson, Retrospective, 1974, mentions that he has it in his gallery's inventory in early 1947, page 65

Exhibited:
Grand Palais, Paris, Salon d'Automne, 1924, special section for recently deceased members, including 14 canvases from Paris private collections, five from André Schoeller, titled as Régates a Honfleur, catalogue #2511
London and French Galleries, British and Foreign Artists, with a Special Selection of the Work of the Late James W. Morrice, April 1925, all works from W. Scott & Sons, Morrice's executors
W. Scott & Sons, Montreal, James Wilson Morrice, Exhibition of Paintings, April 1932, titled as The Regatta, traveling to The Art Gallery of Toronto, May 1932, catalogue #25
W. Scott & Sons, Montreal, Panorama du Canada d'hier et d'aujourd'hui, 1936
W. Scott & Sons, Montreal, Exhibition of Paintings by J.W. Morrice, March 1937, titled as The Regatta at Cancale, catalogue #5

Literature continued:
G. Blair Laing, Morrice, A Great Canadian Artist Rediscovered, 1984, a similar, but slightly earlier, composition, probably the model for this work, circa 1902, entitled Yachting Near St. Malo reproduced page 177
The vogue of nautical sport, which first started in England, was already well established in France by the middle of the nineteenth century. Argenteuil on the Seine River near Paris was known for its regattas. The Cercle de la Voile de Paris, established at Argenteuil, also organized competitions on the beaches of Brittany and Normandy, and the regattas of Saint-Malo were well known.
The Impressionists were attracted to this subject matter. Work was never a subject that held a great interest for them; they painted people at leisure – in a café, at a restaurant, on the beach, strolling in a park – almost never at work. A regatta was a perfect subject in that sense. You could be participating in it like Gustave Caillebotte, who won a competition at Saint-Malo in 1893, or you could just watch it from the bank of a river or the seashore. Caillebotte shared his enthusiasm for sailing with his friends, including, among others, Paul Signac. Claude Monet, who lived in Argenteuil, was often a witness of the regattas on the Seine nearby. His Régates à Argenteuil, circa 1872, in the collection of the Musée d'Orsay, Paris, is famous. He even encouraged Auguste Renoir to paint the same subject, and the National Gallery in London has in its collection Régates à Argenteuil, painted by Renoir in 1874.
J.W. Morrice loved the seashore and visited such places as Dinard, Le Pouldu, Dieppe and, of course, Saint-Malo. The real challenge for him in dealing with this theme was not the novelty of the subject, but to find a new angle, a new point of view on the scene, in order not to simply repeat what his predecessors had done. That is what he succeeded in doing here in this marvelous painting from the François Dupré collection, which was exhibited at the Ritz-Carlton Hotel in Montreal.
Saint-Malo is famous for its ramparts, which were also often painted by Morrice. Beneath the Ramparts, St. Malo, circa 1898 - 1900, in the collection of the Montreal Museum of Fine Arts, is a good example of this subject. One can see in this painting an opening giving onto a balcony in one of the towers on the right. It is probably from there that Morrice saw from the top of the ramparts the small group of people we see in the bottom left of his picture. They are all looking intensely at the regatta, and we are invited to participate in their pleasure, since they turn their backs to us and occupy in the front of the scene practically the same position we have in front of the painting. This is a very unusual framing of the scene, probably inconceivable before photography. The painter is above and has a transcendent view of the whole scene: the sea with the sailboats, the strong wind, the sky with clouds and this small group of onlookers. For that reason also, he is less interested than Monet was, for instance, in the squally conditions of the water, which broke the reflection of the boats on the surface of the Seine and gave him the idea of the "fragmented touch" which was so typical of Impressionism. Morrice's touch is more fluid, more unified and creates a rather subtle effect on the surface. It takes what Lucie Dorais calls an obligatory "meditation-time" in front of the picture, if one wants to appreciate all its subtlety.
Needless to say, the appearance of a Morrice painting of this quality on the market is a rare occurrence.
We thank François-Marc Gagnon of the Gail and Stephen A. Jarislowsky Institute of Studies in Canadian Art, Concordia University, for contributing the above essay.
We thank Lucie Dorais for her assistance in researching this lot. Dorais is currently compiling a catalogue raisonné on the work of James Wilson Morrice.
For full cataloguing, text and images in PDF format please click here.


Estimate:
$200,000 ~ $300,000 CAD
Sold for:
$526,500 CAD (including Buyer's Premium)

All prices are in Canadian Dollars.
Although great care has been taken to ensure the accuracy of the information posted, errors and omissions may occur. All bids are subject to our Terms and Conditions of Business.