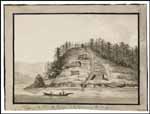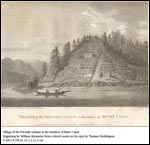 Spring 2012 - 2nd Session Live auction
Lot # 191

Attributed to Midshipman Thomas Heddington
1774 - 1852 British

Village of the Friendly Indians at the Entrance of Bute's Canal
india ink and grey wash on paper circa 1792
titled in the margin
7 1/2 x 10 in 19 x 25.4cm

Provenance:
Private Collection, Edinburgh, Scotland
Christie's, Exploration and Travel including the Polar sale, London, England
Private Collection, Vancouver

Literature:
Charles P. de Volpi, British Columbia, A Pictorial Record: Historical Prints and Illustrations of the Province of British Columbia, Canada, 1778 - 1891, 1973, page 23, an engraving with the same title produced by J. Landseer from a drawing by W. Alexander from this sketch reproduced page 24
John Frazier Henry, Early Maritime Artists of the Pacific Northwest Coast, 1741 - 1841, 1984, an engraving with the same title produced by J. Landseer from a drawing by W. Alexander from this sketch reproduced page 99

One of the earliest depictions of First Nations life on the Northwest Coast, this fascinating drawing is attributed to Midshipman Thomas Heddington who was on the voyage of Captain George Vancouver who led the HMS Discovery and the HMS Chatham to explore and survey the British Columbia coast and Vancouver Island in 1792. Captain Vancouver was also on a sensitive mission to enforce the terms of the treaty between England and Spain that restored property at Nooka Sound to England - the Spanish having seized it from British subjects. Instructions to search for the fabled Northwest Passage rounded off their agenda.
Captain Vancouver, on his return to London, published his journal of discovery in 1798, and some of Heddington's drawings were reproduced in this publication, including an etching of this particular drawing which was produced by J. Landseer and drawn by W. Alexander. In regard to the scene depicted here, Captain Vancouver wrote:
"It was noon on the 30th (July, 1792) before we reached that part of the western shore, which had appeared broken, and on which the fires of the natives had been observed on entering this canal; which I distinguished by the name of 'Bute's Canal'. Here was found an Indian village, situated on the face of a steep rock, containing about one hundred and fifty of the natives, some few of whom had visited our party on their way up the canal, and now many came off in the most civil and friendly manner, with a plentiful supply of fresh herrings and other fish, which they bartered in a fair and honest way for nails."
Heddington was only 15 years old when he joined the Vancouver expedition as a midshipman on the Chatham, but he had already had some years of naval experience. During the voyage he produced numerous survey documents and drawings, which were deposited in the Hydrographic Office in England at the end of the expedition, it being common practice that someone with artistic ability would record the events of the voyage. In 1808 Heddington wrote the Admiralty asking for their return. They were willing to return his charts, but no mention was made of the drawings. Heddington went in person to the office to pick them up. Lieutenant Commander A.C.F. David of the Hydrographic Office in Taunton, who did research on Heddington, was unable to track down his drawings subsequently, except for discovering that Heddington had published copies of two of his drawings. Heddington continued in naval service and attained captain's rank in July of 1851.
This drawing depicts wooden structures that First Nations peoples used for drying fish. It is a striking scene with the conical hill topped by the village itself, which clearly commanded a stunning view of the ocean and mountains beyond. This drawing is a very rare depiction of this historic encounter between the men of the Captain Vancouver voyage and First Nations people; most drawings such as this would be in naval museums or archives, as at the time they would have been considered to be commissioned by the Crown.

Estimate: $30,000 ~ $50,000 CAD

Sold For: $55,575.00 CAD (including buyer's premium)