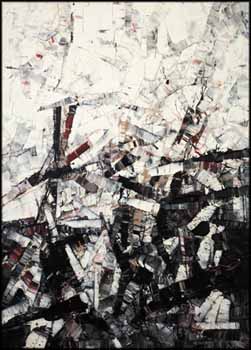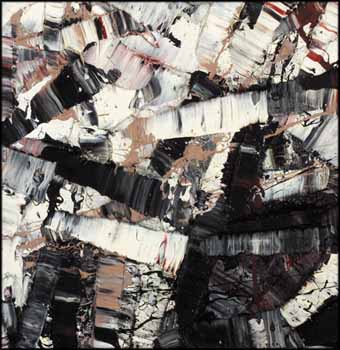 Lot # 027
Canadien d'après ~ guerre & contemporain Live auction

Jean Paul Riopelle
AUTO CAS OC QMG RCA SCA 1923 - 2002 Canadian

Aventure picaresque
oil on canvas
signed and dated 1955 and on verso titled on the labels, inscribed "Bonne année maître Corbeil, de Riopelle", "Gilles Corbeil, 1582 avenue des Pins, Montréal", and "Gilles Corbeil, 41 Maplewood" and numbered "106"
39 3/8 x 28 5/8 pouces 100 x 72.7cm

Provenance:
Galerie Gilles Corbeil, Montreal
Private Collection, Montreal

Référence:
Noël Lajoie, "Le Salon d'automne," Le Devoir, November 19, 1955, page 3
Noël Lajoie, "Art d'aujourd'hui," Le Devoir, February 1, 1956, page 7
Noël Lajoie, "Confrontations picturales," Le Devoir, February 4, 1956, page 8
Pearl Sheffy, "Jean Paul Riopelle Talks about Art," The Globe Magazine, May 9, 1964, pages 6, 7 and 8
Jacques Michel, "Le retour de Riopelle. Quand l'esprit vient à la ficelle," Le Monde, September 1972, page 15
Yseult Riopelle, Jean Paul Riopelle Catalogue Raisonné, Volume 2, 1954 - 1959, 2004, reproduced page 209, catalogue #1955.071H.1955

Exposition:
École des Hautes Études, Montreal, Salon d'automne, 1955
Galerie L'Actuelle, Montreal, 1956
Musée d'art contemporain de Montréal, Panorama de la peinture au Québec 1940 - 1966, May - August 1967
Borduas et les Automatistes 1942 - 1955, Grand Palais de Paris, October 1 - November 14, 1971, traveling to Musée d'art contemporain de Montréal, December 2 - January 16, 1972
Expositions Flammarion de la Place des arts, Montreal

This painting comes from the collection of the late Gilles Corbeil, painter, art critic and owner of an art gallery on Crescent Street in Montreal, as a label on the back of the painting shows. He was the brother of Maurice Corbeil, the famous collector who was a friend and admirer of Paul-Émile Borduas. The title of our painting, Aventure picaresque, could apply to every Jean Paul Riopelle painting. The word "picaresque" comes from the Spanish picaro, meaning "clever," "adventurer," and is applied to pseudo-autobiographical novels in which the hero tells of his own adventures, and often takes advantage of his story to criticize the customs of his time. Transposed to painting, and especially to Riopelle's painting, the word underlines the fact that in his view, each painting was a new adventure.

Riopelle once said to Pearl Sheffy, "Each painting is brand new. If it's not, then I have failed." Or, as he said to the French journalist Jacques Michel, "A form comes from another one, as a painting comes from the one done just before.....and all the others, from my past experience."

In Aventure picaresque, what is striking is the division of the work into two clear areas, the upper one dominated by white, and the lower one by black strokes of paint. We do not have any more, as in many paintings of the period, the impression of a space filled to capacity, giving no place for these "voids where thought could move," as the critic Georges Duthuit used to say about Riopelle's early fifties paintings done in Paris. Here, on the contrary, the strong contrast between dark and white zones, somewhat as in Autriche III, 1954, the famous painting in the collection of the Montreal Museum of Fine Arts, creates a space in one case of a landscape seen from above and in the other, seen from the ground.

A close inspection of the painting reveals another innovation that is even more surprising. Almost everywhere on the surface, one sees thin lines obtained by what could not be described otherwise than "dripping." Some of those lines are in black, others in pink and others dark red, always very discreet and having nothing to do with the white or black straight lines he was projecting from a stick on his canvases in the early fifties. Technique as such is not crucial - it is what you do with it. But this reference to Jackson Pollock's dripping is intriguing. Riopelle was sure enough of himself to play with this reference, which was noticed by American critics when he exhibited for the first time in New York at the very beginning of 1954 at the Pierre Matisse Gallery.

Here he succeeded in suggesting the anarchy of the lines above the strongly structured "mosaic" of paint strokes applied with the painting knife. However, Pollock, who used to drip his lines on a raw canvas, would not have recognized himself in this Riopelle painting. Riopelle did not make a habit of these thin lines - his work would evolve in other directions. But it is interesting that he was free enough of his past achievements to attempt this new possibility. I am sure that "maître Corbeil," as Riopelle calls him on the back of the painting, was aware of this and liked the painting for that reason.

We thank François-Marc Gagnon of the Gail and Stephen A. Jarislowsky Institute for Studies in Canadian Art, Concordia University, for contributing the above essay.



Tous les prix sont en dollars canadiens.

Nous avons fait en sorte d'assurer l'exactitude de l'information affichée, mais des erreurs ou oublis peuvent se produire. Toute acquisition est soumise à nos modalités et conditions.