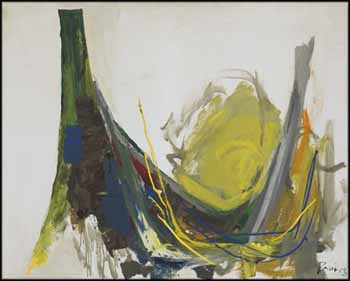 Lot # 053
Canadien d'après ~ guerre & contemporain Live auction

Jack Hamilton Bush
ARCA CGP CSGA CSPWC OSA P11 1909 - 1977 Canadian

Frightened Child
oil on canvas
signed and dated 1958
40 x 50 pouces 101.6 x 127cm

Provenance:
Park Gallery, Toronto
Private Collection, Ontario, circa 1970

Exposition:
Park Gallery, Toronto, Exhibition of New Paintings by Jack Bush, January 14 - 31, 1959, catalogue #10

It was psychoanalysis and free association that set Jack Bush on a path towards abstraction, and Frightened Child, 1958, suggests a further leap in this context - towards dream analysis. Beginning in 1947, the artist sought therapy for the treatment of general anxiety. His psychiatrist, Dr. J. Allan Walters, suggested in September 1947 that Bush try to paint his inner feelings and moods, as freely as possible. Later, in March 1948, the doctor pushed a little further and challenged the artist to paint automatically, with no preconceived notions, in order to emphasize colour, form and content alone. The instructions were significant enough that Bush noted them in his first record book of paintings.
In the years following World War II, analysis became increasingly popular in North America, especially as a result of the writings of Carl Jung, who, as a successor of Sigmund Freud, greatly influenced popular psychology. Bush was not merely following a method devised by Dr. Walters, he was engaging in the spirit of the times. Artists everywhere were embracing new ways to achieve greater creativity and personal originality.
Bush had met and become friends with the New York-based art critic Clement Greenberg in June of 1957 - less than one year before making Frightened Child. Greenberg, along with his wife Jenny, paid a visit to the Bush family in the third week of January 1958, and the artist chronicled their interactions in his diary. During this visit, Bush told Greenberg about a dream he had had of a painting as well as a title for it - Frightened Child. They talked about dreams and analysis and discussed the fact that Jackson Pollock owed much of his painting to psychoanalysis. Greenberg was quick to recommend that Bush read a book called Dreams and Nightmares by Dr. James Arthur Hadfield, and made a point of giving the artist his own copy of the book at the train station when they exchanged their farewells. Bush came away with an increased appreciation for looking within himself for creative resources.
Dreams and Nightmares was first published by Pelican / Penguin Books Ltd. in 1954. In it, Dr. Hadfield argued that dreams are connected to our biology and, as we would not typically ignore the physical signals that our body gives us, dreams too should not be ignored. The book's emphasis on trusting your intuition must have struck a chord with Bush, who developed arguably the best sense of colour and colour placement in the history of abstract painting in Canada.
On February 22, 1958, about a month after receiving the book on dreams from Greenberg, Bush began to paint Frightened Child. He now purposefully aimed to listen to his subconscious, creating the painting he had dreamt about and keeping the title he had essentially devised in his sleep. The results surprised him. He even turned to his family members for their opinion on the painting, yet did not stop painting until his own inner feelings about the work stopped.
Frightened Child was a deeply personal painting for Bush as it stemmed from his unconscious, and surfaced - along with its title - in a dream. The painting is a distinct marker of the artist's trust of his own primal instincts. After 1958 Bush increasingly felt that his artist group associations were not beneficial to him, on the whole. By 1964 he had quit all of these memberships. He had learned that playing the role of the artist was not nearly as important as simply being the artist and painting from his gut.
We thank Dr. Sarah Stanners for contributing the above essay. Stanners is an independent art historian currently directing the Jack Bush catalogue raisonné project. She is also a guest curator with the National Gallery of Canada, where she is co-curating a major Bush retrospective exhibition with the gallery's director, Marc Mayer, which is scheduled to be on view from November 13, 2014 to February 22, 2015.
This work will be included in Sarah Stanners's forthcoming Jack Bush Paintings: A Catalogue Raisonné.



Tous les prix sont en dollars canadiens.

Nous avons fait en sorte d'assurer l'exactitude de l'information affichée, mais des erreurs ou oublis peuvent se produire. Toute acquisition est soumise à nos modalités et conditions.