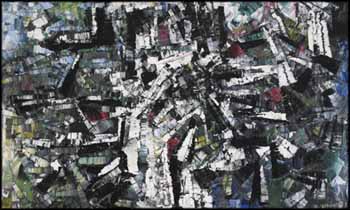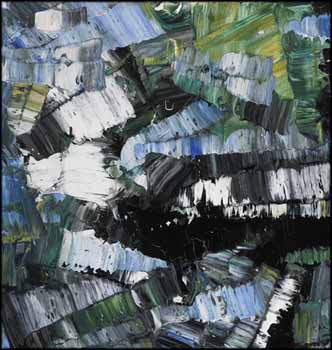 Lot # 021
Canadien d'après ~ guerre & contemporain Live auction

Jean Paul Riopelle
AUTO CAS OC QMG RCA SCA 1923 - 2002 Canadian

Ombrages
oil on canvas
signed and on verso titled in graphite, dated 1955 and inscribed in graphite "No. 4 / M4"
34 1/4 x 57 1/4 pouces 87 x 145.4cm

Provenance:
Pierre Matisse Gallery, New York
Gallery Moos Ltd., Toronto, 1969
Private Collection, Montreal
Galerie Samuel Lallouz, Montreal, 1980s
Private Collection, California

Référence:
Yseult Riopelle, Jean Paul Riopelle Catalogue Raisonné, Volume 2, 1954 - 1959, 2004, reproduced page 204, catalogue #1955.038H.1955

Ombrages from 1955, a real masterpiece, was first sold at the Pierre Matisse Gallery, situated on the corner of 57th Street and Madison Avenue in New York. It was the first gallery there to represent Jean Paul Riopelle, and it was where he had his first American solo show in January of 1954. At the Pierre Matisse Gallery, one could see all the École de Paris stars, such as Pierre's own father, Henri Matisse, Georges Rouault, André Derain, Alexander Calder, Balthus, Joan Miró, Yves Tanguy, Marc Chagall, Jean Dubuffet, Alberto Giacometti, Roberto Matta, Wifredo Lam and even Zao Wou-Ki. Thus Riopelle was in great company.
His presentation at this New York gallery inspired the critics at the time to compare him to Jackson Pollock. But as this painting clearly demonstrates, Riopelle did not have much in common with Pollock. For instance, one can speak of all-overness apropos both painters, but Pollock did not stretch his canvas on a frame. He put it flat on the floor, and he worked from the middle towards the ill-defined limits of the painting, deciding at the end where it should stop. Riopelle, on the contrary, worked from the edges towards the centre on a stretched canvas placed vertically on an easel or on the wall. In fact, the very format chosen by Riopelle belonged to already well-defined genres such as landscape. For Riopelle, there was never a problem as to where the painting should stop.
Recently I became aware of a particularity, well illustrated here in Ombrages, in the way that Riopelle was using his painting knife. Instead of smearing the pigment with the knife, as we often see in Paul-Émile Borduas's paintings, Riopelle seems to have pressed vertically on the oil paint, which he put in great quantity on the canvas, so that what we actually see in each stroke is an imprint in the shape of his painting knife blade. One could say that this does not hold much interest. In fact, an imprint is a very archaic way to obtain a resemblance of something. In prehistoric times, for instance, a similitude of the hand was obtained by pressing the hand, charged with colour, on the wall of a grotto. In that manner, Riopelle introduced a positive anachronism, if we can say so, in the very process of painting. I speak of anachronism, because it seems out of a place in a modernist painting. But it is a positive anachronism, because it challenges the idea of progress in art. In his last period, Riopelle would often use the technique of negative imprint, in which he would spray his paint on an object that could be removed after, leaving only the outline of its absence.
Ombrages, dominated by black, blue and white, is similar to Blue Night, 1953, the painting that he sent to the 1953 exhibition Younger European Painters at the Solomon R. Guggenheim Museum in New York (about the time of his show at the Pierre Matisse Gallery), and plays wonderfully on these associations. When we become aware of Riopelle's techniques, we almost have the impression that it would be easy to paint the canvas ourselves. But of course we could not - Riopelle was the consummate master of the complex process of creating his works, giving motion and direction to paint strokes and pressed impressions, harmonizing and contrasting colours. Riopelle complained, tongue-in-cheek, that he had to paint thickly as he kept integrating the new elements of the painting as he worked. If, like other painters influenced by Automatism, Riopelle worked without preconceived idea, this does not mean that he had no control over the outcome. On the contrary, the movement that one feels here over the whole surface is the result of a sure instinct.
We are lucky that this painting, which was in the hands of a California collector, has been allowed to come back to us.
We thank François-Marc Gagnon of the Gail and Stephen A. Jarislowsky Institute for Studies in Canadian Art, Concordia University, for contributing the above essay.


Estimation:
550,000 $ ~ 750,000 $ CAN
Vendu pour:
1,003,000 $ CAN (prime d'achat incluse)

Tous les prix sont en dollars canadiens.
Nous avons fait en sorte d'assurer l'exactitude de l'information affichée, mais des erreurs ou oublis peuvent se produire. Toute acquisition est soumise à nos modalités et conditions.