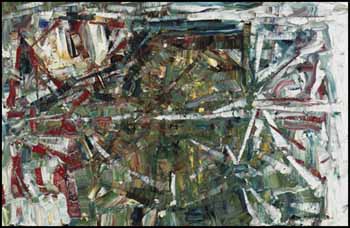 Lot # 053

Jean-Paul Riopelle
AUTO CAS OC QMG RCA SCA 1923 - 2002 Canadian

Sans titre
oil on canvas circa 1966 ~ 1967
signed
23 1/2 x 36 1/4 in 59.7 x 92.1cm

Provenance:
Private Collection, Toronto

Jean-Paul Riopelle's work after 1950 is often compared with late examples from Claude Monet's Water Lilies series, and it seems, in looking at this work, that they shared many concerns. Composed almost entirely from colour, Sans titre appears to have two horizon lines, one running through the centre of the work and the other in the distance, marked by a slash of blues. Edges, understood through the areas with greater amounts of white worked into them, support either side of the work and run across its top edge. There is even a feeling of receding distance conveyed through the greens, yellows and browns of Riopelle's knifed-on paint in the centre of the work, further defined by a single slash of white. The effect is one of looking into and being contained by the work, so that we can focus on the riot of colour therein, where something frosted, fractured and broken is explored with distance, light and edges.
This work will be included in Yseult Riopelle's forthcoming Volume IV of the catalogue raisonné on the artist's work.

S'est vendu pour: $140,400.00 CAN (prime d'achat incluse)
Estimation: 150,000 $ ~ 180,000 $ CAN