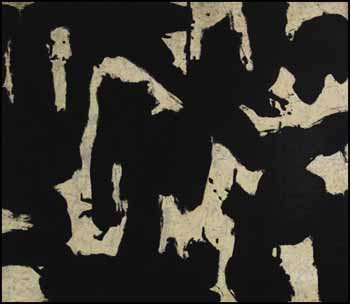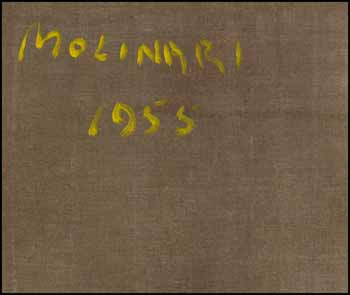 Lot # 008

Guido Molinari
AANFM LP QMG RCA SAPQ 1933 - 2004 Canadian

Untitled - Black & White
duco on canvas
on verso signed, titled on the gallery label and with the inventory #MOL-119 and dated 1955
26 x 30 in 66 x 76.2cm

Provenance:
Collection of the Artist, Montreal
Paul Kuhn Gallery, Calgary
Private Collection, Calgary

Référence:
David Sylvester, "Interview with Franz Kline", Living Arts, Spring, 1963, reproduced in Barbara Rose, Readings in American Art Since 1900, A Documentary Survey, 1968, page 155

This is an intriguing painting for those who associate Guido Molinari with hard-edge vertical bands of colour. Two things must be taken into consideration here: first, the date of 1955, and second, the medium of duco on canvas. Under the Duco brand, DuPont Company introduced the first quick-drying multi-colour line of nitrocellulose lacquers made especially for the automotive industry. This medium was also used in paintings by the American artist Jackson Pollock. In January 1955, Molinari made a short trip to New York City. He took advantage of his trip to see some paintings that especially interested him, such as the Wassily Kandinsky at the Museum of Non-Objective Painting, which Solomon R. Guggenheim and Hilla Rebay, his personal curator and the museum's first director, opened on East 54th Street in Manhattan in 1939, and the Piet Mondrian at the Museum of Modern Art. We know that he was also interested in other recent American painters such as Pollock - he named him in his article "L'espace tachiste ou situation de l'automatisme". During the months that followed, he experimented in "drippings". One of these experiments was presented from November 12 to 30, under the title of Abstraction No. 1, 1955 (in a private collection), in an exhibition organized by Robert Parizeau and Rolande Sainte-Marie at the business school of the Université de Montreal (known as the École des Hautes Études Commerciales).
What our painting suggests is that Franz Kline could have been another American painter discovered by Molinari during his trip. Our Untitled - Black & White is a strong black and white painting, in which the black is thickly painted over a background stained off-white and streaked with grey. Annoyed by the comparison made between his painting and Japanese calligraphy, Kline said in his interview with David Sylvester, "You don't make the letter 'C' and then fill the white in the circle." Similarly, Molinari succeeded in giving as much presence to the off-white as to the black in his painting. The fact that everything is brought to the surface, that we feel only a suggestion of depth, and that the presence of the painter is felt all over the surface, makes this work stand as a definitively "American type painting", quite far from the European refinement of the Plasticiens, admirers of Mondrian and Auguste Herbin, as well as the Surrealist feel of Automatist works. This difference was brought to the attention of the public by a polemic created by derogatory remarks made by Paul-Émile Borduas, who came from New York to visit the exhibition Espace 55 about the same time. He thought that the Post-Automatist trend revealed at this exhibition was "dépassé (out of fashion)". Molinari replied in the text mentioned above by saying that it was the "tachist espace" advocated by Borduas that was "dépassé". It was now the time for a completely non-referential painting, proud of its flatness and of its complete break from what he called the Euclidian cube of the Renaissance, meaning a painting reflecting the three dimensions, including depth! Soon Molinari would be tempted by a more geometric and hard-edge style. But he kept to the black and white opposition for a while, as we see in the year after our painting was produced, when he presented his Black and White show from April 30 to May 14, 1956 at L'Actuelle, a gallery he had founded in Montreal with the financial backing of Fernande Saint-Martin the year before.
It is interesting to note that the first paintings by Borduas from his famous Black and White series were made in Paris the year after our Molinari painting, which is a rare museum quality painting.
We thank François-Marc Gagnon of the Gail and Stephen A. Jarislowsky Institute of Studies in Canadian Art, Concordia University, for contributing the above essay.

Disponible pour la vente après-encan.

Prix: 81,900.00 $ CAN