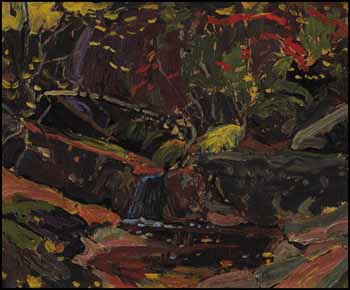 Lot # 109

James Edward Hervey (J.E.H.) MacDonald
ALC CGP G7 OSA RCA 1873 - 1932 Canadian

Brook in Autumn (1)
oil on board circa 1918
signed faintly and on verso signed and titled on the artist's label
8 1/2 x 10 3/8 in 21.6 x 26.3cm

Provenance:
Collection of the Artist
Jim Lawson, Toronto
Acquired from the above no later than 1934 or 1935 by W. Donald Patterson, Toronto
By descent to the present Private Collection, Toronto

Référence:
J.E.H. MacDonald Papers, 30 D, Volume 3, National Archives of Canada, unpaginated
Thoreau MacDonald, J.E.H. MacDonald, 1873 ~ 1932, 1957, unpaginated

J.E.H. MacDonald was an acclaimed designer who understood the principles of colour, composition and balance instinctively. He was able to focus on the essential elements of his subjects, and considered his sketches to be a record of a particular quality that appealed to him in each scene he chose to paint. In his depictions of the small corners of the natural world - which were often his selected subjects - he shows us his talents with pattern, rhythm, colour harmonies and movement. Brook in Autumn (1) is a choice example of these talents at their peak. Here, MacDonald takes us to the edge of a pool created by a small brook, caught in shadow and framed by the yellows, reds and oranges of fall. The still pool of water with dots of reflected colour or floating leaves is the central element in the lower half of the work, and holds our gaze with its glassy surface. This is the only still part of the painting. The rest of the composition is alive with movement - falling, rippling water where the brook plunges into the pool, dancing, dotted colour in the yellow and red leaves, some of which appear to fall and are caught as notes of colour in mid-air - and the delicious brushwork of the greens and oranges that hold the work together and tell us what we are looking at. MacDonald took only a few colours with him when he sketched out-of-doors - "about eight", his journals tell us - and his ability to select these colours and, more importantly, to blend them on the surface of the work, is exemplified in this charming oil. Yellow becomes varying shades of orange as red is added to it, showing us the leaves in all their seasonal variety, and green takes on tones of yellow and red, indicating further the changing hues of autumn in different foliage. The diagonal lines of the bedrock are indicated in black and the deepest red-browns, their slick surfaces touched with green and blue to indicate moss and water. MacDonald's son Thoreau would later write, "He had a gift for understanding and summarizing the landscape, for expressing graphically the character of granite or limestone, spruce and pine, poplar or hardwoods, muskeg or farm fields, all the well-loved variations of Canadian land and seasons." In the lectures notes that J.E.H. MacDonald prepared for the Design and Applied Art classes he taught at the Ontario College of Art beginning in 1921, he stated, "Don't photograph the subject. Give only the characteristic details essential to the composition. Speed helps in sketching just as in sprinting. Try to grasp the idea of your subject quickly, and then put it down before you can form any doubts about it...Design from nature rather than copy her. You will find a general trail in the lines and masses under varying details. Bring that out...Trees grow and clouds float but Art has a world of her own where science is not so absolute."
MacDonald's innate design talents supported and gave structure to his sketches, and allowed him to focus on the ideas that he saw in the natural world. As he had instructed his students, in Brook in Autumn (1) he has put down his ideas quickly and followed the trail of nature's design without hesitation or doubt. We have enough information to tell us what we are looking at, but in MacDonald's world of art, the lush, ripe atmosphere of this scene is at centre stage, and the idea of an eastern Canadian autumn is succinctly captured in the lines of water, the coolness of the air, and the rich, wonderful colour.
We thank Lisa Christensen, author of The Lake O'Hara Art of J.E.H. MacDonald and Hiker's Guide and Hiker's Guide to Art of the Canadian Rockies for contributing this essay.

S'est vendu pour: $105,300.00 CAN (prime d'achat incluse)
Estimation: 100,000 $ ~ 150,000 $ CAN