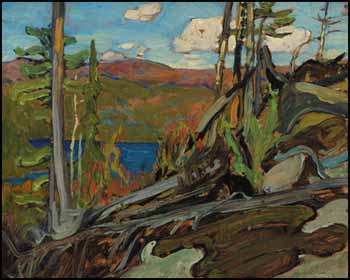 Lot # 131

James Edward Hervey (J.E.H.) MacDonald
ALC CGP G7 OSA RCA 1873 - 1932 Canadian

Algoma Sketch
oil on board circa 1918 ~ 1920
signed and on verso titled and inscribed by Lawren Harris "This is an authentic J.E. MacDonald sketch" and "Miss Long"
8 1/2 x 10 1/2 in 21.6 x 26.7cm

Provenance:
Acquired directly from the Artist
By descent to the present Private Collection, British Columbia

Référence:
A.Y. Jackson, A Painter's Country, The Autobiography of A.Y. Jackson, 1958, page 56

In Canada, the years before World War I were a time of excitement and possibility in the arts. Traveling exhibitions exposed people to a wide range of ideas that inspired creative action and lead to the formation of art clubs and the creation of galleries. The artists who would form the Group of Seven had met, and momentum was building in their circle. But when the war broke out, A.Y. Jackson was sent to France where he was wounded; Lawren Harris and his younger brother Howard both enlisted, and Howard was killed in action; following this, Tom Thomson drowned at Canoe Lake in Ontario. Lawren Harris had a nervous breakdown and was given a medical discharge, and in Toronto, J.E.H. MacDonald suffered a collapse that left him bedridden.
Dr. James MacCallum, art patron and supporter of the burgeoning but beleaguered artists who would form the future Group, saw Harris and MacDonald in their fragile states and felt that the Canadian wilderness might provide the needed medicine. He suggested Algoma, and took Harris there first, in the spring of 1918. The effect was instant, and the experience revived and inspired Harris so much that he insisted MacDonald join them on a return trip in fall of that same year, along with Frank Johnston. He and MacCallum had traveled by rail, and Harris had liked this method of accessing the wilderness a great deal. It suited the painters to have a moveable studio, and to be able to come and go as they pleased made it even better. So he arranged for an outfitted boxcar, separated from the train, to be taken from siding to siding every few days, leaving the painters free to sketch as they liked. The trip worked magic on MacDonald, who had agreed to go in spite of reservations about his health and had confessed that he did not expect to be able to keep up with the others. Once in the Algoma woods, however, he filled a sketchbook with pencil drawings and executed fresh, lively oil on board studies of lakes, streams, thickets and sunsets, in both fine and poor weather, depicted in both daytime and night. For MacDonald, Algoma worked. "I always think of Algoma as MacDonald's country," said Jackson in his autobiography. "He was awed and thrilled by the landscape of Algoma and he got the feel of it in his painting." The Algoma trips took place in September of 1918, the fall of 1919, and in both spring and fall of 1920. It is difficult to say exactly which trip generated this tangle of bracken and tree limbs with its turquoise sky and deep blue lake, but the jaunty red highlights seem to indicate either fall colour or late summer flowers, leading us to assume it was executed during one of the autumn trips. Between the trips, in March of 1920, the Group of Seven was formed.
Algoma Sketch exemplifies MacDonald's subtle approach to the vast panoramas that Algoma presented. Most often, as in this work, he chose to depict a small portion of the scene, rather than the whole. The lake in this work is only partly visible, its deep cobalt blue standing out so strongly against the mid-toned greens of the forest that there is no need to capture the full body of water - the colour tells us that it is deep and large. MacDonald did this often, choosing corners of streams, the bases of trees, the foot of a mountain, rather than vast distances and fuller panoramas. He had the ability to select and focus on a smaller part that would indicate the greater whole. His training in design, his love of poetry, and his reserved character went hand in hand with the beautifully designed, subtly poetic and understated qualities of his art. His sketches are a revelation to us of MacDonald the man.
We thank Lisa Christensen, author of The Lake O'Hara Art of J.E.H. MacDonald and Hiker's Guide and Hiker's Guide to Art of the Canadian Rockies for contributing the above essay.

S'est vendu pour: $128,700.00 CAN (prime d'achat incluse)
Estimation: 100,000 $ ~ 150,000 $ CAN