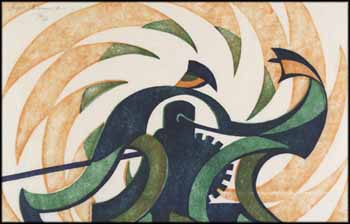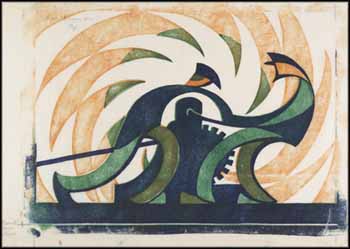 Lot # 101
Fine Canadian Art Live auction

Sybil Andrews
CPE 1898 - 1992 Canadian

The Winch
linocut in 3 colours 1930
signed and editioned 12/50
7 3/4 x 11 in 19.7 x 27.9cm

Provenance:
Joyce Williams, Antique Prints and Maps, Vancouver
Private Collection, Vancouver

Literature:
Peter White, Sybil Andrews, Glenbow Museum, 1982, reproduced page 51
Stephen Coppel, Linocuts of the Machine Age, 1995, reproduced page 107, catalogue #SA 6
Clifford S. Ackley, editor, Rhythms of Modern Life: British Prints 1914 - 1939, Museum of Fine Arts, Boston, 2008, reproduced page 143

Exhibited:
Glenbow Museum, Calgary, Sybil Andrews, 1982, same image, catalogue #6
Museum of Fine Arts, Boston, Rhythms of Modern Life: British Prints 1914 - 1939, January 3 - June 1, 2008, traveling to The Metropolitan Museum of Art, New York, same image, catalogue #79

This striking linocut reflects the sweeping social and economic changes of the 1920s and 1930s. World War I introduced dramatic shifts in the job market, followed by the stock market crash of 1929, which resulted in unemployment and economic difficulties. In the Grosvenor School of linocut artists in England that Sybil Andrews was a part of, the worker was idealized and represented as energetic and productive. The machine age was in full swing, inspiring Andrews's depictions of men in industrialized activities. The Winch is an outstanding example of this subject, portrayed with a modernism derived from Cubism and Futurism. Streamlined and stylized, her figures, stripped of their individual features, are anonymous and strong, and with their curved and abstracted arms, they meld with the machine they are manipulating. A whorl of green-tipped orange spears behind the men further emphasizes the impression of intense energy in this refined and powerful print.
The catalogue raisonné lists the edition as 50, with 6 trial proofs and 5 experimental proofs. This is a fine early impression on buff oriental laid tissue.


Estimate:
$20,000 ~ $30,000 CAD
Sold for:
$23,600 CAD (including Buyer's Premium)

All prices are in Canadian Dollars.
Although great care has been taken to ensure the accuracy of the information posted, errors and omissions may occur. All bids are subject to our Terms and Conditions of Business.