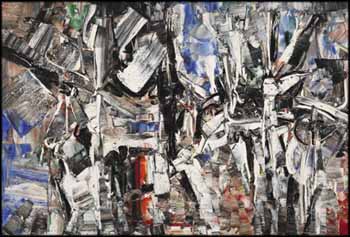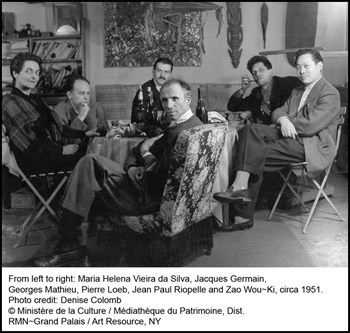 Lot # 028
Canadian Post~War & Contemporary Art Live auction

Jean Paul Riopelle
AUTO CAS OC QMG RCA SCA 1923 - 2002 Canadian

Respir d'avril
oil on canvas circa 1957
signed and on verso titled on the gallery label, inscribed "26" in red with various Dominion Gallery inscriptions and with the Dominion Gallery inventory #D2754 and stamped three times: Dominion Gallery, Montreal
35 x 51 1/4 in 88.9 x 130.2cm

Provenance:
Collection of the Artist, Paris
Dominion Gallery, Montreal
Private Collection, Vancouver, acquired from the above in 1970
By descent to the present Private Collection, Vancouver

Literature:
Jean Paul Riopelle, Fernand Séguin and Gilbert Érouard, Entretiens avec Jean Paul Riopelle suivis de Fernand Séguin rencontre Riopelle, 1993, page 67
Jeffery Spalding, "Immaculate Misconception," in Riopelle, The Montreal Museum of Fine Arts and Connaissance des arts, 2002, page 9
Yseult Riopelle, Jean Paul Riopelle Catalogue Raisonné, Volume 2, 1954 - 1959, 2004, titled as Sans titre, reproduced page 278, catalogue #130H.V1957

Exhibited:
Dominion Gallery, Montreal, Georges Mathieu - Jean Paul Riopelle, April 18 - 31, 1966

In Respir d'avril, Jean Paul Riopelle seemed ready to abandon the system he applied in the mosaic series of the 1950s, where the imprint of the painting knife could be clearly seen in each stroke. Here, on the contrary, the strokes are much more varied, some being quite large, others more in the style we saw in previous paintings. The smearing of the paint on large areas is new. The pigment, especially on the left side, seems to be thinner and on the right, we see curves not seen before. Evidently, Riopelle was looking for a way to escape from repetition, and was not afraid to invent something new.
Nevertheless, the painting is firmly structured by three strong verticals crossing from the whole pictorial area from top to bottom. The contrast between the white and the black is in a dialogue, if I may say so, with the opposition of the blue and the pink creating a rather pleasant effect in a painting that could be seen at first as rather violent and improvised. As Jeffrey Spalding wrote for the catalogue of a 2002 Riopelle show at the Montreal Museum of Fine Arts, "Riopelle made beautiful paintings.....Luscious, lavishly generous dollops of exquisite impasto paint applied in dazzling configurations of form and color. Perpetually re-inventing himself, Riopelle transformed his touch, composition and stylistic approach." Respir d'avril is proof of this.
Our painting was shown for the first time in 1966 at the Dominion Gallery in Montreal and acquired by a Vancouver collector. Dr. Max Stern, the owner of the gallery, decided to also exhibit the French painter Georges Mathieu at the same time. Mathieu was known for his improvisations, done in public, from which he could achieve a calligraphic abstract painting in a very short time. This was something Riopelle would never have done, as he hated the idea of being seen while painting. Riopelle knew Mathieu, having met him in Paris at the Pierre Loeb Gallery.
In a famous circa 1951 photo, both of them are present. Riopelle is the one smoking a pipe on the right, and Mathieu is the one with the mustache. To their left is the Portuguese painter Maria Helena Vieira da Silva (1908 - 1992) and Jacques Germain (1915 - 2001), and to their right, Zao Wou-Ki (1920 - 2013). Pierre Loeb is in the centre foreground with his cat.
In 1954 Riopelle was not associated with the Surrealists any more, and was seen rather as a member of Abstraction lyrique, a movement from after World War II that was in reaction against the geometrical abstraction represented by the French disciples of Piet Mondrian, such as Auguste Herbin and Jean Gorin as well as Alberto Magnelli, an Italian painter who made his career in France.
Riopelle, in an interview with Gilbert Érouart, said that even though "to work fast and strong" like Mathieu was not his style, he "saw Mathieu all the time. We were acquainted with the same people." Mathieu recognized Riopelle's contribution to the movement in France and was pleased to see him participating in the exhibition L'imaginaire, held in December 1947 at the Galerie du Luxembourg, along with himself, Wols (Alfred Otto Wolfgang Schulze), Camille Bryen, Fernand Leduc, Hans Hartung, Jean-Michel Atlan, Raoul Ubac and Jean Arp. This exhibition is often described as the one that launched the movement of Abstraction lyrique. In the group, it was the Chinese painter Wou-Ki who was closest to Riopelle, and who remained a friend for life. The two painters had in common that they had to deal with a tradition inherited from their origins, while still having to search for their own individuality. For both, Paris was a wonderful liberating milieu.
We thank François-Marc Gagnon of the Gail and Stephen A. Jarislowsky Institute for Studies in Canadian Art, Concordia University, for contributing the above essay.


Estimate:
$200,000 ~ $300,000 CAD
Sold for:
$306,800 CAD (including Buyer's Premium)

All prices are in Canadian Dollars.
Although great care has been taken to ensure the accuracy of the information posted, errors and omissions may occur. All bids are subject to our Terms and Conditions of Business.