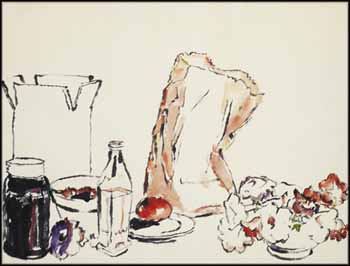 Lot # 110
Fine Canadian Art Live auction

David Brown Milne
CGP CSGA CSPWC 1882 - 1953 Canadian

Vinegar Bottle II
watercolour on paper
on verso titled, dated 1937 and inscribed "W-9"
16 x 21 in 40.6 x 53.3cm

Provenance:
Douglas Duncan Picture Loan Society, Toronto, circa 1958
Private Collection, Toronto

Literature:
David P. Silcox, Painting Place: The Life and Work of David B. Milne, 1996, the related watercolour Vinegar Bottle III reproduced page 283
David Milne Jr. and David P. Silcox, David B. Milne: Catalogue Raisonné of the Paintings, Volume 2: 1929 - 1953, 1998, pages 631 and 644, reproduced page 644, catalogue #305.35, the 1937 watercolours Vinegar Bottle I and Vinegar Bottle III reproduced page 644 and the 1937 canvas entitled Bag of Sugar reproduced page 645

In early summer of 1937, David Milne began to paint in watercolour again after a 12-year hiatus. These new works were characterized by their use of bright colour and fluid washes. Another development was Milne's propensity to paint a subject numerous times, "trying to gain in simplicity and impact, he hoped, but without losing the appearance of spontaneity," as the catalogue raisonné notes. During this summer, Milne produced Vinegar Bottle I, II and III, using still life elements such as nasturtiums, a jar of blueberries, a bowl, an empty cardboard box, a paper bag and the vinegar bottle. He intentionally moves the viewer's eye by steps from left to right through the cluster of objects painted on bare paper, movement reinforced by creating a sense of colour progression. He stated, "The idea seems to be a definite progress from black to white by way of red." Milne was so excited about his return to watercolour that he dubbed it the ideal medium, and Vinegar Bottle II, effortlessly elegant, is an exceptional example of his mastery of it.


Estimate:
$40,000 ~ $60,000 CAD
Sold for:
$47,200 CAD (including Buyer's Premium)

All prices are in Canadian Dollars.
Although great care has been taken to ensure the accuracy of the information posted, errors and omissions may occur. All bids are subject to our Terms and Conditions of Business.