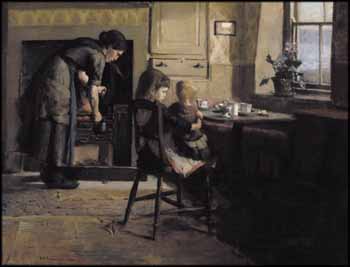 Lot # 109
Fine Canadian Art Live auction

William Brymner
CAC OSA PRCA RCA 1855 - 1925 Canadian

Afternoon Tea
oil on canvas
signed and dated 1884 and on verso signed indistinctly and inscribed "J.A. Ewart, 1909, Broadmoor Ave."
28 1/8 x 36 in 71.4 x 91.4cm

Provenance:
Acquired by David Ewart (1841 - 1921), Chief Dominion Architect, Ottawa
J.A. Ewart (1872 - 1964), Architect, Ottawa
By descent to the present Private Collection, Ontario

Literature:
"William Brymner," National Gallery of Canada Collections, http://www.gallery.ca/en/see/collections/artist.php?iartistid=779, accessed August 24, 2014

William Brymner's impact on the history of art in Canada was profound. In addition to being a seminal teacher (he taught at the Art Association of Montreal for 35 years), he created a body of sensitive, luminous work that includes landscapes, domestic scenes, idyllic scenes of childhood and compelling portraits. Brymner trained in Europe in the Classical style and its influence, as well as that of Impressionism, can be seen in his work. His use of a golden-warm, enveloping light references the painters of the Barbizon School who were his contemporaries in Paris. Brymner's Royal Canadian Academy diploma piece titled A Wreath of Flowers was painted in 1884 at Runswick Bay, on the Yorkshire coast of England, where Brymner worked the summer and fall of that year. It is very likely that Afternoon Tea was also painted at Runswick Bay, as the work dates from the same year, and a sweeping shoreline and distant cliffs characteristic of the region can be seen through the window.
Afternoon Tea exemplifies Brymner's ability to capture the character of his figurative subjects and to depict interiors with exacting accuracy of detail. Here, he gives us an image filled with complexity, ambiguity and subtlety. How exactly are we to understand this scene? A young girl, at the centre of the work and dressed in a red-trimmed pinafore, sits at a table with a large doll (or perhaps a younger child) on her lap. A woman - sombrely dressed and clearly accustomed to hard work, tends a cast-iron kettle at the hearth. Both figures have downcast eyes, both are quiet and engaged in their own thoughts. The room itself was once fine, as the hearth tiles and wallpaper suggest, but has fallen into disrepair, indicated by the torn floor cloth and mismatched china. Has the child of the household been sent to the servant's kitchen for tea, perhaps to consider a misdemeanour? Or is this a mother and her child sharing a meagre tea with only bread and butter as accompaniment in their humble home?
The expression on the child's face is compelling, as is the sense of emotion that fills the work. Accentuating all of this is the potted plant with pink flowers on the windowsill. Leaning towards the incoming light, it draws our gaze to the water and blue skies seen beyond the glass, but neither the girl nor the woman look at the view. The plant and the light suggest better times ahead, or perhaps refer to an easier life that has passed. The light that changes from blue to gold and enters the room to fall on the figures brings to mind Barbizon master Jean-François Millet's painting The Gleaners. Brymner's golden light elevates the figures in Afternoon Tea beyond their humble life of hard work, respecting and honouring their lot in life just as Millet's gleaners were sanctified by his golden light. As Brymner stated in 1897, "There are other kinds of beauty than that of a pretty face or form, or the brightness of a sunset." In Afternoon Tea, Brymner has painted a scene of honesty, frankness and sensitivity, depicting beauty through humility and conveying the character of his subjects through the use of gentle warm light.


Estimate:
$25,000 ~ $35,000 CAD
Sold for:
$35,400 CAD (including Buyer's Premium)

All prices are in Canadian Dollars.
Although great care has been taken to ensure the accuracy of the information posted, errors and omissions may occur. All bids are subject to our Terms and Conditions of Business.