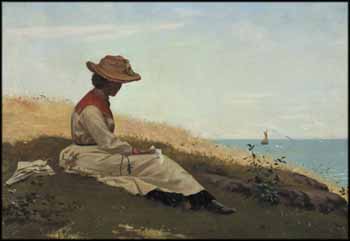 Lot # 108
Fine Canadian Art Live auction

Paul Peel
OSA RCA 1860 - 1892 Canadian

Goodbye
oil on canvas
signed and dated 1884 and on verso inscribed indistinctly "Goo…..B….."
16 x 23 in 40.6 x 58.4cm

Provenance:
Acquired by David Ewart (1841 - 1921), Chief Dominion Architect, Ottawa, from the Colonial and Indian Exhibition, May 1886
J.A. Ewart (1872 - 1964), Architect, Ottawa
By descent to the present Private Collection, Ontario

Exhibited:
Art Association of Montreal, Spring Salon, April 1885, catalogue #70
Royal Canadian Academy of Arts, Ottawa, Seventh Annual Exhibition, 1885 - 1886, price $35, catalogue #133
British Colonial Office, London, UK, Colonial and Indian Exhibition, May 1886, catalogue #133

In May 1883, with the acceptance of his canvas La première notation (Mother's Help) to the Paris Salon of the Société des artistes français, Paul Peel had achieved a key ambition, the very reason for pursuing advance studies in France: to be affirmed as meeting the international artistic standards of his day, as set by such French aesthetic arbiters. New credentials in hand, Peel returned to his hometown of London, Ontario, with a shipment of his recent works intended for sale to Canadian patrons, the proceeds of which would underwrite ongoing studies abroad. In December 1883, he returned to Paris accompanied by his younger sister Mildred, another Peel with artistic ambitions. The siblings spent the summer of 1884 sketching in and around Pont-Aven in Britanny, where Peel's American artist friends congregated, before pushing on into Normandy. During the course of this summer, Peel sketched his sister, a ready model, seated on a grassy coastal embankment looking out to sea. This finished canvas, worked up from the direct oil study, retains much of the fresh sunny palette and painterly qualities of the plein air study.
The motif of the figure in the landscape was one Peel would develop in later pieces, like The Young Botanist (1888) and The Young Gleaner (1888). Peel's interest in capturing atmospheric effects on forms had been stimulated during his first summer in Pont-Aven in 1882, resulting in a series of sunny depictions of local scenery. This canvas expands upon these early experiments with a new emphasis on space, specifically the illusion of deep recessional space achieved utilizing the new non-perspectival methods influenced by photography and Asian art, then at the height of popularity in Paris and America. In a break from academic tradition, Peel depended on the diagonal placement of forms and vertical stacking of variegated coloured planes to draw the eye into deep space. Space is telescoped across three rising planes, and the foreground figure seems almost to touch the distant schooner. If unremarkable today, the spatial treatment would have seemed a radical departure for Victorian Canadian audiences accustomed to traditional atmospheric perspective.
Accommodating popular appetite for sentimental narratives, Peel adds telltale details in the finished canvas. The figure holds a white handkerchief and a cruciform necklace (a classic sailor's keepsake), and a schooner sails away towards the open sea. These are recognizable symbols of the melancholic narrative, as confirmed by the pensive title Goodbye, applied when it was first exhibited at the Art Association of Montreal's Spring Salon in April of 1885. As in Peel's oeuvre as a whole, there is an aesthetic tension between the Victorian romanticism that shaped the artist's earliest conception of art and which still prevailed in late-nineteenth-century Victorian Canada, and optical realism, to which Peel was introduced by his Pennsylvania Academy of the Fine Arts instructor Thomas Eakins, an advocate of using photography as an artistic aid.
After its inaugural showing at the Art Association of Montreal, Goodbye was among seven Peel paintings included in the Royal Canadian Academy of Arts annual exhibition in Ottawa in 1885, and one of five pictures selected for the Colonial and Indian Exhibition that opened in May 1886 in London, UK. It was evidently at this time that David Ewart, then lead architect in the Department of Public Works in Ottawa, purchased it, possibly on the encouragement of his friend William Brymner (1855 - 1925), an associate academician of the RCA. Of modest scale and reasonably priced at $35 (about $850 in today's dollars), Goodbye met the criteria for residential display and a public servant's means. Its containment of formal innovation within a traditional pictorial vocabulary equally met the conservative notions of modern art held by late-nineteenth-century Canadian patrons. Viewed within the larger context of Peel's known production, it stands among the artist's most progressive pictures, significantly distanced in its real subject and naturalism from the idealized nudes upon which this artist later built his reputation.
We thank Victoria Baker, author of Paul Peel: A Retrospective, 1860 - 1892, for contributing this essay.


Estimate:
$35,000 ~ $50,000 CAD
Sold for:
$112,100 CAD (including Buyer's Premium)

All prices are in Canadian Dollars.
Although great care has been taken to ensure the accuracy of the information posted, errors and omissions may occur. All bids are subject to our Terms and Conditions of Business.