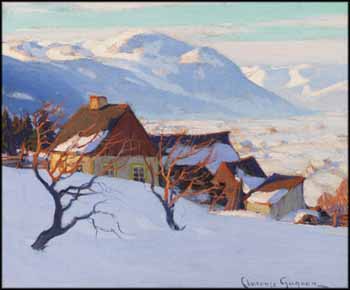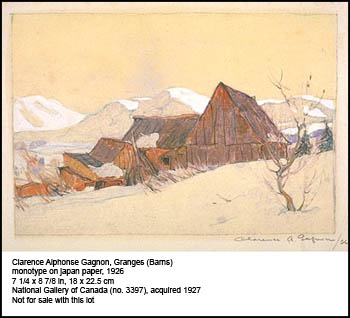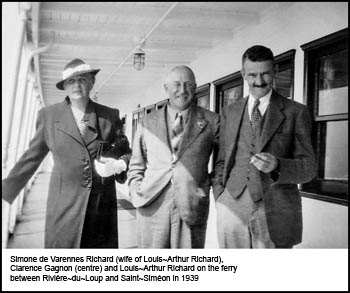 Lot # 121
Fine Canadian Art Live auction

Clarence Alphonse Gagnon
CAC RCA 1881 - 1942 Canadian

Paysage de Charlevoix
oil on canvas
signed and on verso inscribed indistinctly "cuvette" / "Plateau" / "petite cuvette ordinaire" / "Richard"
10 x 12 in 25.4 x 30.5cm

Provenance:
A wedding gift from Louis-Arthur Richard (1886 - 1965), Quebec City, to his son, 1948
By descent to the present Private Collection, Quebec

Literature:
Pierre B. Landry, editor, Catalogue of the National Gallery of Canada: Canadian Art, Volume 2, 1994, the 1926 monotype Granges (Barns) reproduced page 17
"Clarence Gagnon," National Gallery of Canada Collections, http://www.gallery.ca/en/see/collections/artist.php?iartistid=1932, accessed September 10, 2014

Exhibited:
Musée de la province de Québec, Exposition rétrospective de Clarence A. Gagnon, RCA, 1881 - 1942, June 16 - July 16, 1942
National Gallery of Canada, Ottawa, Memorial Exhibition: Clarence Gagnon, 1881 - 1942, November 1942 - January 1943

This fine painting was given as a wedding gift in 1948 to Louis-Arthur Richard (1886 - 1965) and came into the collection of the present owner by descent through the family. Richard, whose name appears on the back of the painting, was deeply involved in the protection of the environment while a minister under Sir Lomer Gouin, premier of Quebec from 1905 to 1920. He met Clarence Gagnon in Sainte-Pétronille, on the Island of Orleans near Quebec City, when Gagnon was visiting the painter Horatio Walker, his old master. Richard happened to be the neighbour of Walker on the island. He described Gagnon as a perpetual nomad, always on the go, curious about everything, happy to be far from the studio or the museum.
Gagnon was very enthusiastic about the Quebec region of Charlevoix (he lived in Baie-Saint-Paul at various times before settling there permanently in 1936), painting winter scenes and the life of the habitants there. It is this village that we see between the foreground seen from above and the range of the Laurentian Mountains under a clear sky in the background. Baie-Saint-Paul is situated on the edge of a crater created by the impact of a meteorite some 350 million years ago, which extends 56 kilometres to La Malbaie, with the Mont des Éboulements in between. Of course, Gagnon did not know this geological fact, which was only discovered in 1965 by the geologist Jehan Rondot. It is possible that the word cuvette (basin or bowl) inscribed on the back of the work could be taken as a geographic term, designating this depression.
In the foreground of Paysage de Charlevoix, two small trees attract attention in front of the old house behind the snowbank, and barns and sheds attached to the house complete the composition. Gagnon's palette is full of complementary colours, with the icy-blue hue of the snow contrasting with bright orange on the buildings and upper branches of the trees.
Gagnon painted what he saw...or what he remembered. Not knowing the date of this painting, it is hard to determine whether it was done on the spot or in his studio in Paris, where he lived from 1924 to 1936. For Gagnon this was not crucial. In 1931 he wrote, "It was not the over-sensitivity of the misunderstood that made me move to Paris.....Over there, I paint only Canadian subjects, I dream only of Canada. The motifs remain fixed in my mind and I don't allow myself to be captivated by a new landscape. In Switzerland, Scandinavia - everywhere, I recall my French Canada."
One intriguing comparison can be made with a 1926 monotype entitled Granges, acquired by the National Gallery of Canada the year after, which suggests a possible date for our painting. It seems to be a reverse view of the same scene, but in Paysage de Charlevoix, Gagnon has transformed the barns into a house and outbuildings. Gagnon, "dreaming" only of Canadian scenes, was often repeating a motif he remembered and transforming it into something else. The role of memory and imagination in the work of this realistic painter has not been stressed enough. As an illustrator of Louis-Frédéric Rouquette's book Le grand silence blanc (1928) and of Louis Hémon's book Maria Chapdelaine (1916), he demonstrated his skill in reconstructing scenes of habitant life. This is even more remarkable when we know that he was living in Paris while he worked on these projects.
We thank François-Marc Gagnon of the Gail and Stephen A. Jarislowsky Institute for Studies in Canadian Art, Concordia University, for contributing the above essay.


Estimate:
$125,000 ~ $175,000 CAD
Sold for:
$141,600 CAD (including Buyer's Premium)

All prices are in Canadian Dollars.
Although great care has been taken to ensure the accuracy of the information posted, errors and omissions may occur. All bids are subject to our Terms and Conditions of Business.