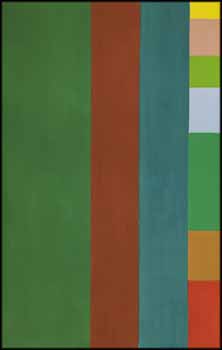 Lot # 024
Canadian Post~War & Contemporary Art Live auction

Jack Hamilton Bush
ARCA CGP CSGA CSPWC OSA P11 1909 - 1977 Canadian

Dull Day
acrylic on canvas
on verso signed, titled, dated April 1968 and inscribed "Acrylic Polymer W.B."
58 x 36 1/2 in 147.3 x 92.7cm

Provenance:
Galerie Agnès Lefort, Montreal
Waddington Galleries, Montreal
Private Collection, Ontario

Literature:
Robert Ayre, "Bush's First One-Man Exhibition Locally," The Montreal Star, February 22, 1969
Dennis Reid, "Jack Bush, Galerie Lefort, Montreal, February - March 1969," artscanada 26, no. 130/131, April 1969, reproduced page 42

Exhibited:
Galerie Godard Lefort, Montreal, Jack Bush, February 18 – March 8, 1969

So, what is in a title? Or, a harder question: what is in a Jack Bush title? The three Bush paintings in this sale have challenging titles: Frightened Child (lot 53), Cry Cry (lot 40) and Dull Day. And yet, they are wonderfully authentic. These titles speak of the artist's willingness to be up front, placing his feelings flat against the canvas for all to see and experience.
Dull Day, from April 1968, is not the only painting by Bush to bear this title. In February 1947, the artist painted a small oil on paperboard (8 1/2 x 11 inches) depicting a hillside scene by railway tracks, and titled it Dull Day. Perhaps as a result of the misreading of the artist's handwriting, the painting went on to be shown and sold through the Grace Borgenicht Gallery in New York with the mistaken title of Drill Day.
In the case of the small oil from 1947, the title surely describes the winter scene – it is a dull day. More than 20 years later, Bush's 1968 Dull Day was painted when the artist was in the full swing of his abstract painting career. His titles from the 1960s are often very matter-of-fact: Tan Flag, Awning, Zig Zag and Off Centre, to name a few. He usually titled his work in a pat manner - that is, opportunely and in exactly the right way (for example, Blue Shaft or Pink Top Totem, where the artist selected a part of the painting that is unmistakable for its identification). Whether it was a dress worn by his wife Mabel, new curtains in the bedroom or a sudden bloom in the garden, Bush's titles for abstract paintings sometimes touch on the real world as a point of inspiration, but always spin off into the realm of colour and pure visual delight.
Yet the title for Dull Day (1968) is at a remove from what we see: carefully stacked bars of cheerful colours in acrylic, with brave moments of contrast between one colour and the next. The specificity of the title does not rest easily with the presence of so many colours, but perhaps that is the point. Like the material points of reference discussed in the previous paragraph, the artist's mood or initial recognition of the kind of day before him became jumping-off points for titles. He tended to note the weather at the beginning of each of his diary entries, and this daily routine may have sparked the name Dull Day for this painting. However, Dull Day remains provocative. Was the artist combating a dull day by employing lots of colour? Was he finding solace from the day in his studio? Or was he just lifting a title from the weather forecast?
An even greater distance from personal invention and association is evident in his titles from around 1975, when the artist regularly turned to a glossary of musical terms to inspire titles for his paintings. Rhythm, spacing and even musical preference are signaled with titles such as Andante, Trio and Basie Blues. In fact, tracing Bush's titles through the arc of his 50-year-long career as a painter is telling. His early landscape paintings usually denote place and subject matter exactly; his paintings from 1947 reflect his feelings and moods as a result of psychotherapy; titles from the 1960s and early 1970s are short and sweet; and the titles of his late works are rife with musical references, frequently using one word alone. Abstraction is often complicated by titles that insinuate too much. Bush's titles insinuate just enough – just enough to make you think.
We thank Dr. Sarah Stanners for contributing the above essay. Stanners is an independent art historian currently directing the Jack Bush catalogue raisonné project. She is also a guest curator with the National Gallery of Canada, where she is co-curating a major Bush retrospective exhibition with the gallery's director, Marc Mayer, which is scheduled to be on view from November 13, 2014 to February 22, 2015.
This work will be included in Sarah Stanners's forthcoming Jack Bush Paintings: A Catalogue Raisonné.


Estimate:
$125,000 ~ $175,000 CAD
Sold for:
$188,800 CAD (including Buyer's Premium)

All prices are in Canadian Dollars.
Although great care has been taken to ensure the accuracy of the information posted, errors and omissions may occur. All bids are subject to our Terms and Conditions of Business.